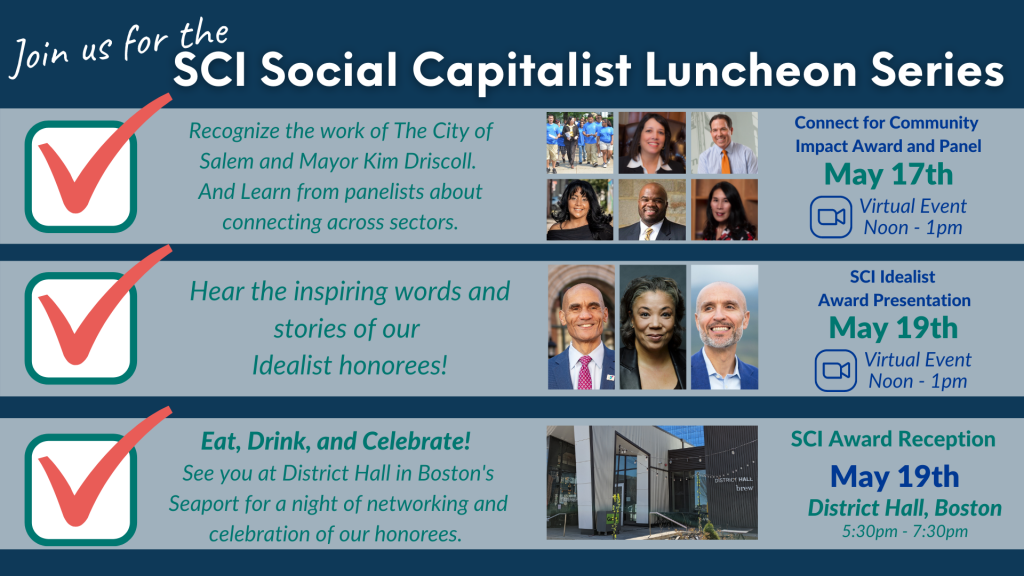 The highlight of our annual luncheon has always been being in a room filled with such a vibrant and inspiring group. We are so excited to be able to bring people together again for the first time since 2019!
The City of Salem has been selected for this year's Connect for Community Impact Award, presented by Eastern Bank. The Virtual Award Presentation on May 17th will be followed by a panel discussion on topics related to business & community collaboration to create healthy and equitable communities. 
We are excited to be honoring Juan Fernando Lopera, Dr. Makeeba McCreary, and James Morton as the recipients of the 2022 SCI Idealist Awards. The Virtual Award Presentation will be on May 19th.
On the evening of May 19th, we will come together for in-person, informal Social Capitalist reception. An evening to network together, with food and drinks, and celebrate our Award recipients. We are excited to host our event at District Hall, the world's first free-standing public innovation center!
We hope you'll join us! Purchase your tickets today!