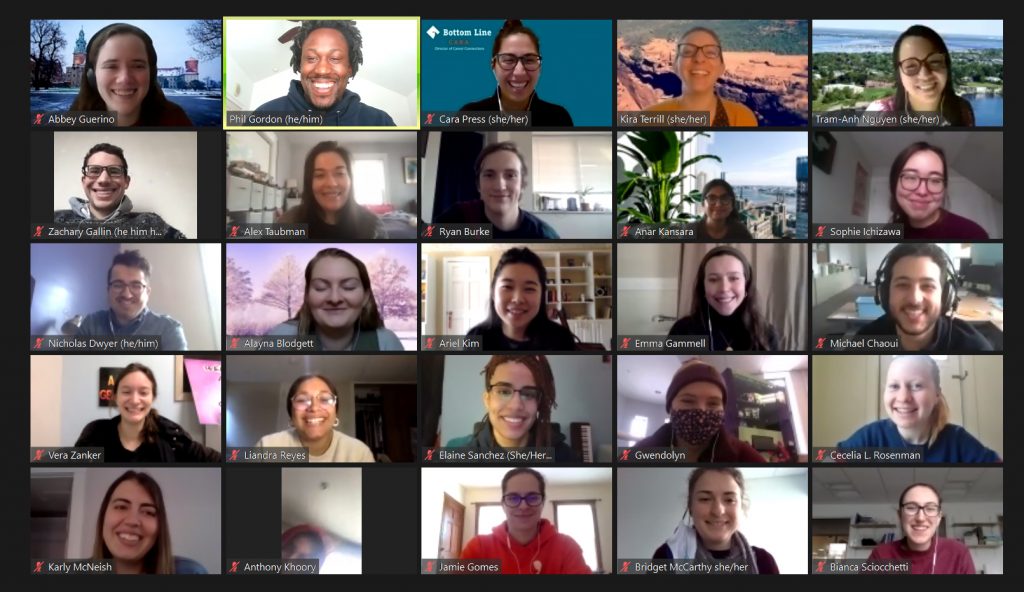 About SCI AmeriCorps
10-Month Positions Available beginning in September 2021!

The SCI AmeriCorps program supports youth success by increasing volunteerism and providing leadership training and community service opportunities for youth. The goal of the SCI AmeriCorps program is to connect youth with relationships, experiences and resources they need to succeed. Members implement volunteer outreach and capacity building activities that increase volunteer participation, and provide leadership training and community service opportunities for youth. Since 2007, SCI AmeriCorps members have served at various host sites, who are aligned with the mission of Social Capital Inc.
SCI AmeriCorps members are placed into one of two teams, Volunteer Outreach Coordinators and Youth Leadership Coordinators. SCI AmeriCorps is currently looking for candidates to fill Volunteer Outreach Coordinator & Youth Leadership Coordinator positions for a 1700-hour service period between September 2021 and June 2022:
Volunteer Outreach Coordinators (VOC) will develop and implement practices for effective volunteer engagement at their host sites by focusing on SCI's core values of relationship development and nurturing local social networks.
Youth Leadership Coordinators (YLC) will serve as leaders to a youth council, and increase the capacity of host sites to implement social capital building, youth engagement and community service-learning as strategies to achieve high educational outcomes.
What is AmeriCorps?
AmeriCorps engages thousands of Americans in service opportunities each year through nonprofits, schools, public agencies, and conservation efforts across the country. Joining AmeriCorps is a way to put your idealism into action. AmeriCorps programs do more than engage citizens to move communities forward, they also serve their members by creating jobs and providing pathways of opportunity for people entering the workforce. Check out the video to learn more!
When you join AmeriCorps, you'll earn money towards past or future education, learn to be a leader, and gain real job skills. SCI AmeriCorps members build social capital in their communities through civic engagement opportunities, and gain valuable experience in the process.
---
Available SCI AmeriCorps Member Opportunities
September 2021 – June 2022
Volunteer Outreach Coordinator Host Site Positions:
Click on link/s below to access position descriptions
Youth Leadership Coordinator Host Site Positions:
Click on link/s below to access position descriptions
Member Requirements:
Able to commit to Full-Time service in local communities with diverse residents
Effective communication skills to conduct community outreach through marketing strategies and civic engagement
Strong work ethic, collaboration, and time management skills
Availability to serve in-person for some or all service activities.
Member Benefits:
Receive a Taxable Stipend of up to $18,000/year, paid bi-weekly
Earn a Federal Education Award worth $6000+ on successful completion of service
Professional Development Trainings
Eligible for Free Health Care at a no cost premium
Can receive Student Loan Forbearance during active service
APPLY TODAY!!!
Email a cover letter and resume to the Program Director at americorps@socialcapitalinc.org, OR submit an application through the MyAmeriCorps portal (search "Volunteer Outreach Coordinator" or "Youth Leadership Coordinator" in the Program Name field)
Social Capital Inc. is an equal opportunity & inclusive employer that welcomes ALL candidates regardless of ability, ethnicity, gender, gender identity, sexual orientation, race, or religion.
Questions? Email americorps@socialcapitalinc.org or call 781.935.2244 ext. 3
---
About Social Capital Inc.
Founded in 2002, SCI's mission is to strengthen communities by connecting diverse individuals and organizations through civic engagement initiatives. We envision a nation where individuals are strongly connected to their neighbors and play an active role in shaping the destiny of their communities.
What is "social capital"?
The idea of social capital is that our social networks have value. Social capital refers to the collective value of all "social networks" and the impulses that come from these networks to do things for each other . Social capital can be measured by the amount of trust and "reciprocity" in a community or between individuals. Our SCI AmeriCorps members build social capital by connecting community members to the information they need and fostering civic engagement among youth and adults.