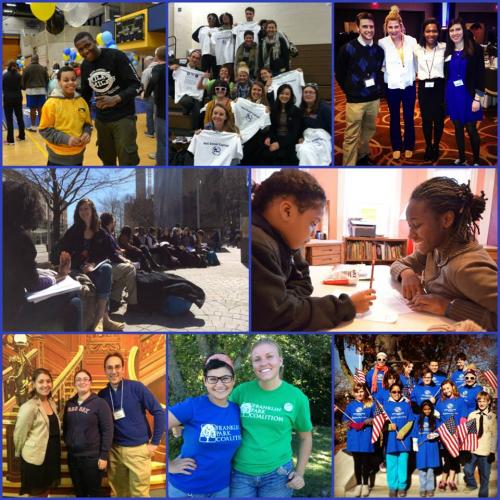 SCI has many ways for you to make a difference as an employee or volunteer. Below are some of our SCI organizational needs and opportunities.
Current SCI Board Needs
SCI's work to unite diverse community members to strengthen local communities is more important than ever.
At a board retreat earlier this year, board members delved into a number of important strategic issues that must be addressed in order to deepen and sustain our impact. To help address these key issues and ensure the organization's long-term success, we are actively recruiting diverse board candidates that are strategic thinkers, have strong networks and are passionate about creating healthy, inclusive communities.
In addition to the attributes we seek of all SCI board members, the following are some particular skills and experiences that we are seeking from potential new members. If one or more of these resonates with your background, let's talk!
Development Committee (Fundraising): While all SCI board members are expected to support the fundraising process, the SCI Development Committee develops and drives the fundraising strategy for the organization. We need at least one additional committee member — ideally someone with fundraising experience, comfortable with reaching out to their network for individual donations and / or corporate sponsorships.
Boston Connections: We are looking for new board members with strong connections to Boston businesses and community organizations. Over the last several years, more new members have joined from the Woburn area, and we would like to balance that with new members that live and/or work in Boston, given our significant programmatic presence in the city.
Marketing skills: Potential board members with marketing skills and experience would be very helpful. Someone with marketing skills could help us with messaging, overall marketing strategies and other valuable insights.
Evaluation / metrics: At a retreat held earlier this year, two of our four emerging priorities relate to assessing our current programming and developing new tools for measuring social capital in communities we serve. Thus, prospective members with expertise and program evaluation and metrics would be helpful.
Finance: We could always benefit from additional members that are comfortable reviewing financial statements and help think through financial issues. New SCI board members who work in finance would help bring this skill set as well as useful contacts within the sector.
To explore how your skills might be able to help SCI achieve its mission, please contact SCI President David Crowley at dcrowley@socialcapitalinc.org or 781-935-2244 x 1.

Volunteer at SCI
Office Work: Answering the phone, data entry, helping with mailings – this is all vital to expanding our capacity and increasing our ability to help the communities in which we work. Community Outreach: Calling/emailing community organizations and businesses to find out about volunteer opportunities, donations, etc. Share your skills! As an organization with big goals and a small staff, we rely on volunteers to help with many important functions. We are especially eager to find people with strong writing skills to help with editing and content creation, and volunteers to help update community website and social media content on our local sites, especially during the summer. We also are looking for volunteers interested in serving on one of our fundraising committees. We have the flexibility to work with your interests and schedule. We also are interested in working with students to gain internship or course credit for volunteering. Special Events: SCI is often looking for volunteers to help with upcoming events! Virtual Volunteering: If you are outside the Greater Boston area, technology allows the opportunity for virtual volunteering! Examples of volunteer roles that can be done in this fashion include research and helping to develop written materials. In addition, as SCI expands its network, we will be seeking people to help make contacts in other areas of the country. To get in touch about volunteering with SCI, click here to use our intake form.