Social Capital and a Stress Test for Our Democracy
Our democracy and its institutions have been undergoing quite the stress test over the past few years. This test came to a dramatic crescendo last Wednesday, when hundreds of violent insurrectionists stormed the Capitol building in an attempt to disrupt the proceedings of our electoral process.
At key points in recent years, points of resilience in our system, including courts and local election officials, have stepped up to curb anti-democratic threats. Wednesday evening it was time for members of Congress to take a stand. At potential risk to their personal safety, they returned to complete the process of certifying the Electoral College results.
Reaction to Storming of the Capitol
Today I first want to register how disturbed I was to watch the events at the Capitol on Wednesday, and the rally that preceded and instigated it. I was dismayed to see the assault on the national home of our representative government, and how easy it seemed to be for this group of mostly white agitators to gain access to the halls of the Capitol.
Many have speculated what the outcome would have been if it were a group of Black protestors making a similar attempt to take over the Capitol. I cringe at the thought of the bloodshed that history, recent and over the centuries, tells us would have been likely. I saw many I follow on social media sagely observe that the limited response to the insurrectionist group Wednesday, many of them armed and displaying indicators of their ties to white nationalist groups, is perhaps the ultimate display of white privilege — the privilege not to be harmed by the police officers because of one's skin color, despite the violent, seditionist action in which they were participating.
So much has been said about the insurrection attempt and events surrounding it, and I don't want to simply repeat the many insights I have come across in the aftermath of Wednesday. I would like to pick up on the question, what is the role of a civil society organization like SCI as we move forward?
Members of Congress did their part Wednesday evening by returning to the chambers and formalizing the election results, the next step in the orderly transition of power that we have taken for granted until recently in our country.
SCI's Mission and Role
SCI's mission is to strengthen communities by connecting diverse individuals and organizations through civic engagement initiatives.
We started SCI back in 2002, trying to build up social capital and civic engagement at the local level. Observers since de Tocqueville have long noted how community connections and local engagement are a cornerstone of a well-functioning democracy.
As Robert Putnam described in Bowling Alone, levels of social capital and civic engagement by many measures reached their high point in the 1950s. But of course we know that was a time before the progress of the Civil Rights Movement, and we have no desire to return to the society of the 1950s that excluded Blacks, women and so many other groups from full participation.
The SCI project has always been to bring the benefits of social capital & civic engagement to a more inclusive, 21st century context. We had a focus on diversity and inclusion since our founding — fostering "bridging social capital", relationships that cut across differences that too often divide us. Bridging social capital takes more work in many ways, but is vital for a just and inclusive community.
While diversity has always been part of SCI's work, the climate of the past four years has prompted us to place a greater focus on inclusiveness and welcoming communities. Groups including the Southern Poverty Law Center tracked an increase in hate crimes during this period of time. But we did not have to read about it to know, conversations with our friends and partners in the local immigrant community spoke of the rising fears the climate created.
SCI co-facilitated a series of race and diversity dialogues several years ago that helped us and other partners develop new initiatives to create bridging social capital and to support members of our community marginalized and threatened by the rhetoric and policies of the time.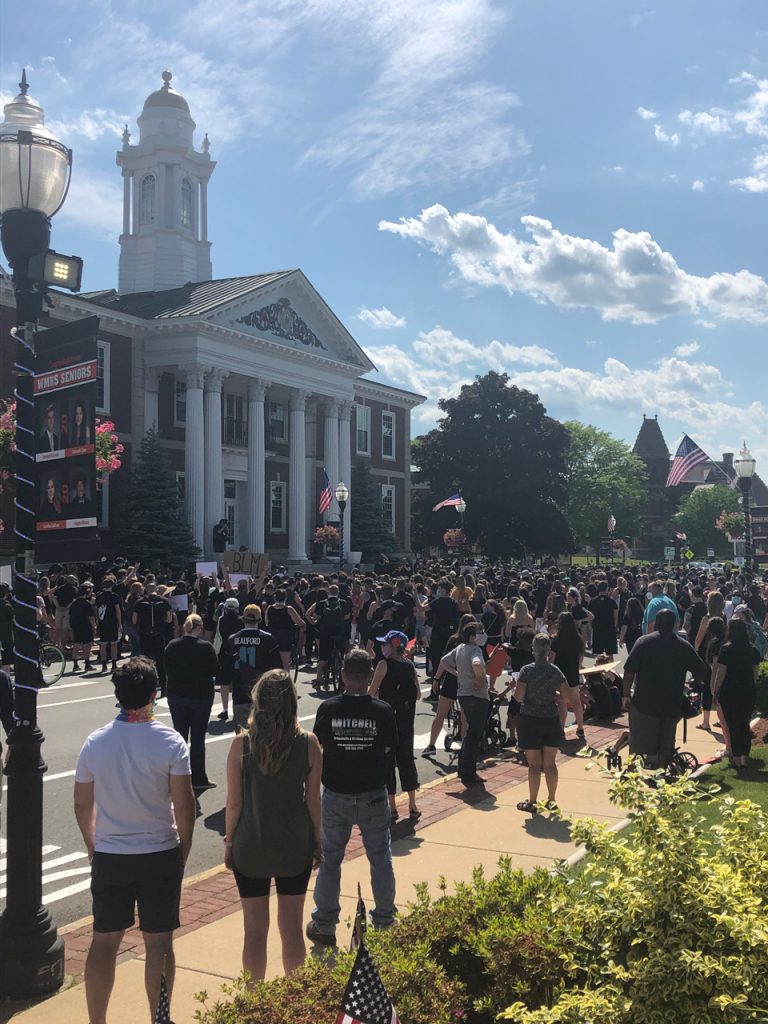 Time to Rise Up
Events of the past year have signaled a readiness perhaps to grapple with race in a more significant way. The widely viewed video of George Floyd's brutal murder at the hands of police – something we know is far from an isolated event – galvanized a response that suggests we may be ready to address issues of equality, institutional racism and white privilege in a serious way. Communities of color bearing the brunt of the pandemic's health and economic impact further underscore the urgency of the moment.
Then the storming of the Capitol last week reminded us of how fragile our democracy is today. Furthermore, the brazenness of the interlopers last Wednesday, with their symbols of white supremacy on full display, makes it difficult to continue to deny the very real threat posed by white nationalist groups. As Dr. Ibram X. Kendi argues in a recent article in The Atlantic, denial of the long history of racist violence and oppression must stop for us to make meaningful progress.
Could the events of the past year, and even the past week, be pushing us closer to the day Dr. King envisioned? When he said "I have a dream that one day this nation will rise up and live out the true meaning of its creed: "We hold these truths to be self-evident, that all men are created equal."
I've heard this line many times, and have tended to focus on the way Dr. King is imploring the nation to live up to the ideals embodied in its founding documents and myths.
Reading King's words in light of recent events, I'm also focused on the "rise up" part of his message. He reminds us that it will take action, a rising up from our current status quo, to do the work needed to make the dream a reality.
SCI's Plans
What can SCI do to work toward a more just and equitable society? Or to borrow again from Dr. King, work toward the Beloved Community he envisioned?
SCI continues to be a nonpartisan organization that doesn't advocate for specific candidates or policies. What we can do is create spaces in our community where people of diverse backgrounds can have honest, respectful conversations that can lead to greater understanding and collective action that support inclusive communities and greater equity.
Some of our immediate program plans include:
• Continuing to read and discuss "How to Be an Antiracist" with our AmeriCorps members.
• Offering a three part series on "Disrupting Racism" in partnership with the Network for Social Justice.
• Hosting a screening & discussion of the film "Traces of the Trade" on February 26, facilitated by Dain & Constance Perry, who appear in the film. Email Sophie Ichizawa if interested in Zoom information when it becomes available. 
We realize the above programs are likely to attract people that choose to participate based on an interest in racial justice. SCI is also interested in continuing to develop programming promoting racial equity and awareness that reaches a broader audience, including ways to deepen the impact of popular programs such as WorldFest.
We are excited about continuing to work with the newly formed Tanner Youth Coalition, comprised of several Woburn youth groups committed to working on issues of diversity in the community. Working with youth is a crucial way to put our democracy on track for a better future!
Many of our current SCI AmeriCorps placements include an explicit focus on racism and equity. Our member based at UMass Dartmouth is coordinating the upcoming MLK Civic Youth Leadership Institute this weekend. We now have three members serving with METCO, building capacity for their work to promote educational equity. Soon we will start looking for new SCI AmeriCorps partners for next year, and we will welcome applicants from more organizations doing equity work.
"You cannot have a democracy unless all ordinary Americans of different abilities, of different races, genders, ethnicities, have an equal say," observes Boston College Professor Heather Cox Richardson, noting this has never been the reality in the U.S.
Everyone in our communities, from all backgrounds, working together for the common good, is what we strive for every day at SCI. Today that mission is central to what we need to do in order to not merely pass this test with which our democracy has been confronted, but to respond in an open eyed way that does truly move us toward those stated ideals of equality and opportunity for all.