FOR IMMEDIATE RELEASE
Contact: David Crowley, President, Social Capital Inc., 339-227-2146, dcrowley@socialcapitalinc.org
Contact: Alison Harding, Cummings Foundation, 781-932-7093, aeh@cummings.com
Social Capital Inc. awarded $350,000 Cummings grant
Woburn nonprofit receives 10 years of funding from Cummings Foundation
Woburn, May 29, 2021 – Social Capital Inc. (SCI) is one of 140 local nonprofits to receive grants of $100,000 to $500,000 each through Cummings Foundation's $25 Million Grant Program. The Woburn-based organization was chosen from a total of 590 applicants during a competitive review process. It will receive $350,000 over 10 years.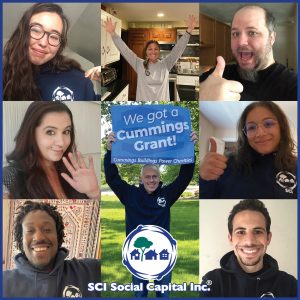 SCI's mission is to strengthen communities by connecting diverse individuals and organizations through civic engagement initiatives.
"We are thrilled to receive this ten year grant from the Cummings Foundation," commented SCI President & Founder David Crowley. "The ten year grant greatly enhances our capacity for community impact and innovation. The Cummings Foundation focus on long-term commitments to its grantees is something we would like to see more funders emulate."
This grant will enable SCI to sustain and deepen its impact in Woburn, with a particular focus on the twin challenges of the COVID-19 pandemic and racial inequity. Funds will be used to expand programs piloted recently, including the Youth Grant Pitch Contest and the Woburn Parent Network, and to expand SCI Woburn's base of community volunteers.
The Cummings $25 Million Grant Program supports Massachusetts nonprofits that are based in and primarily serve Middlesex, Essex, and Suffolk counties.
Through this place-based initiative, Cummings Foundation aims to give back in the area where it owns commercial buildings, all of which are managed, at no cost to the Foundation, by its affiliate, Cummings Properties. This Woburn-based commercial real estate firm leases and manages 10 million square feet of debt-free space, the majority of which exclusively benefits the Foundation.
"We aim to help meet the needs of people in all segments of our local community," said Cummings Foundation executive director Joel Swets. "It is the incredible organizations we fund, however, that do the actual daily work to empower our neighbors, educate our children, fight for equity, and so much more."
With the help of about 80 volunteers, the Foundation first identified 140 organizations to receive grants of at least $100,000 each. Among the winners were first-time recipients as well as nonprofits that had previously received Cummings Foundation grants. Forty of this latter group of repeat recipients were then selected to have their grants elevated to 10-year awards ranging from $200,000 to $500,000 each.
"We have adopted a democratic approach to philanthropy, which empowers an impressive roster of dedicated volunteers to decide more than half of all our grant winners each year," said Swets. "We benefit from their diverse backgrounds and perspectives; they benefit from a meaningful and fulfilling experience; and the nonprofits often benefit from increased exposure and new advocates."
This year's grant recipients represent a wide variety of causes, including social justice, homelessness prevention, affordable housing, education, violence prevention, and food insecurity. The nonprofits are spread across 43 different cities and towns.
The complete list of 140 grant winners, plus more than 800 previous recipients, is available at www.CummingsFoundation.org.
Cummings Foundation has now awarded more than $300 million to greater Boston nonprofits.
About Social Capital Inc. (SCI)
SCI's mission is to strengthen communities by connecting diverse individuals and organizations through civic engagement initiatives. Founded in Woburn in 2002, SCI has grown to serve 20 Eastern Massachusetts while continuing to have a major impact in its home town. Longstanding programs and events SCI coordinates include WorldFest, the Horn Pond Summer Concert Series, the Holiday House Tours and Woburn Volunteers for Seniors. New initiatives include the SERV volunteer network, the Woburn Parent Network and the Youth Grant Pitch Contest. SCI is part of the AmeriCorps national service program, with 25 full-time slots, including several in Woburn. For more information, visit socialcapitalinc.org.
About Cummings Foundation
Woburn-based Cummings Foundation, Inc. was established in 1986 by Joyce and Bill Cummings and has grown to be one of the three largest private foundations in New England. The Foundation directly operates its own charitable subsidiaries, including New Horizons retirement communities in Marlborough and Woburn, and Veterinary School at Tufts, LLC in North Grafton. Additional information is available at www.CummingsFoundation.org.
###