We at Social Capital Inc. are deeply troubled and saddened by the murder in Atlanta of eight people, including six Asian American women. This is the most recent example of a disturbing rise in acts of violence and hate directed toward the Asian American Pacific Islander (AAPI) community.
Over the past year, we have been focused on addressing racism against Black people in America and advancing racial justice in the wake of the murder of George Floyd. During Black History month, we focused on recognizing wide ranging accomplishments of Blacks to American life, as well as engaging in conversations as part of several virtual programs observing the month.
This week we have been reminded that racism and hate crimes affect all minoritized groups in our society. The AAPI community has a long history of suffering from discrimination, including the government run internment camps during World War II. SCI is helping to coordinate a vigil in Woburn to honor the victims of this violence as well as show our support for this deeply effected community. A number of Woburn organizations have joined us in a statement of support and are assisting in coordination of the event.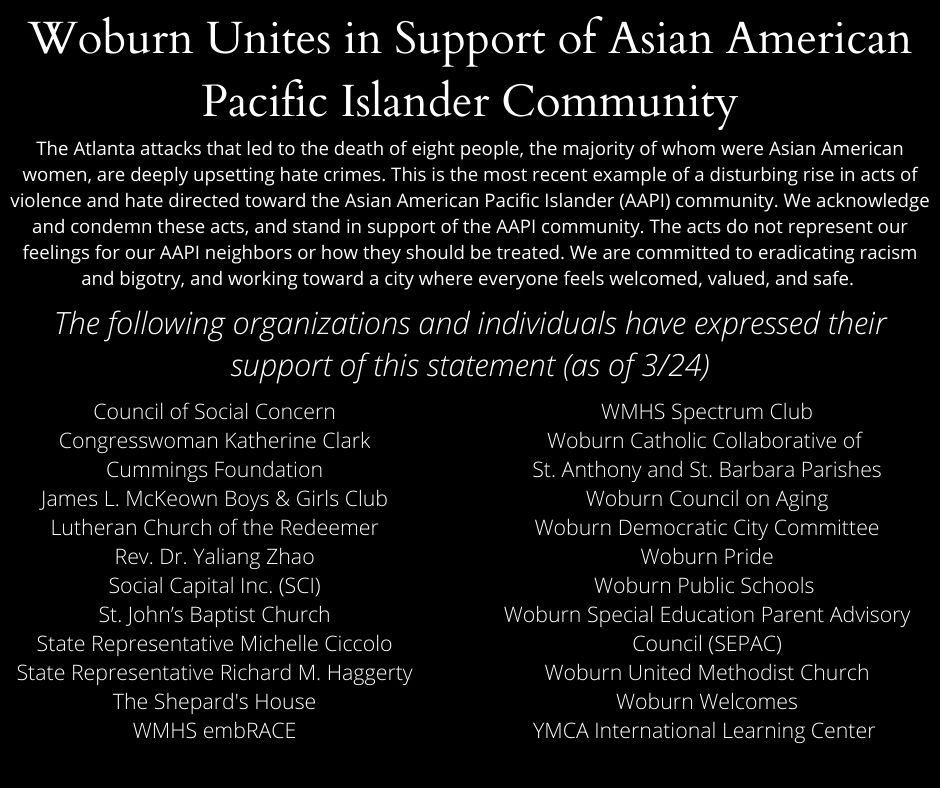 The murders earlier this week are far from an isolated incident. There has been a rise in anti-AAPI discrimination over the past year, leading many of our AAPI community members feeling unsafe. The group Stop AAPI Hate recently released a report documenting 3,795 incidents over the past year.
We will take recent events as a prompt to learn more about discrimination and hate director toward the AAPI community, and identify ways that we can support our brothers and sisters. There is also a Massachusetts Town Hall on Anti-Asian Racism (6 p.m. Thursday, March 25). Keep an eye on our social media feeds as we will share other opportunities we find to support the AAPI community and other antiracism events and resources.
During the final session of the Disrupting Racism program we co-sponsored with the Network for Social Justice, there was a concept introduced that antiracism work is more sustainable and effective when we realize everyone is negatively impacted by racism. Our communities can truly thrive only when everyone feels safe, and has an equal opportunity to access opportunities and resources needed.