Friendship: Another benefit of volunteering!
This summer, Jenna, Community Liaison at SCI, reached out to SCI's volunteers to see if anyone would be able to help a Woburn senior with some yard work. Kerstin has been volunteering with SCI for a few years, first as a snow shoveler, and now as a leaf raker. (Though she actually has known about us for a lot longer – her now 29-year-old daughter volunteered with SCI when she was 10 years old!) Kerstin saw Jenna's request, and said "Sure!"
Kerstin and her husband grabbed some supplies and headed out. When they got there, Kerstin was happy that she had enlisted the help, because they found a very large yard! And they met Annie, a woman about to turn 95 who had cared for it all, on her own until just a few years ago.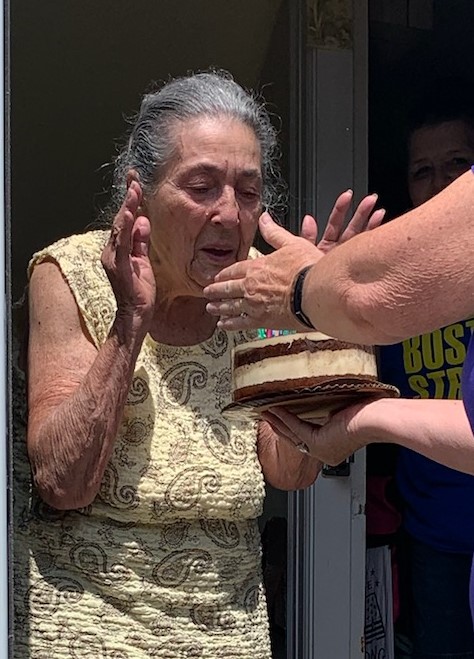 At the core of our mission is the desire to bring people together. You will find a hope for connection at the root of all that we do, because we know that we are stronger together. Across generations, across cultures, volunteer opportunities with SCI and through our AmeriCorps members cultivate connections. Your donation supports SCI's work, making community volunteer opportunities possible.
Kerstin and her husband quickly realized that in addition to some yard work, they had also signed up for some wonderful conversation. They took turns mowing the lawn while the other sat with Annie. She told them how she had meticulously cared for her yard since she moved to her Woburn home about four decades ago. After a while, they asked if she wanted to come down and help. With some assistance, Annie came down in her yard and directed the volunteers on what and where to cut back the bushes, and was so happy to even do some pruning herself.
After a few follow-up phone calls, Annie declared "I think we're friends!" And she was right. Originally from New York City, Annie moved to Dorchester in her teens, and then to Woburn with her family 40 years ago. Now at 95, she has found a new friend, and Kerstin couldn't be happier for it. Annie's birthday was just a few days after she met, and Kerstin made sure to bring by a birthday cake to celebrate the occasion.
Volunteering has been a cornerstone of SCI's programs through the service of our AmeriCorps members across Eastern Massachusetts and through the work done with SCI Woburn like Leaf Raking and Snow Shoveling for Seniors. Through our network of volunteers, we have the ability to respond to what the community needs, like when Annie needed some help with her yard or responding to the needs brought by the pandemic, like helping ensure thousands had food & other essentials and students had the support they needed. Giving today will give SCI the ability to continue to respond to needs, grow our network of volunteers, and expand on our volunteer opportunities.
"She's a lot of fun", Kerstin says of her friend, "and she tells great stories". Kerstin is captivated by the stories of Annie growing up in New York, including the time when Annie and her friends went swimming in the Hudson River and watched from below the George Washington Bridge as it was being built. And one shopping trip together, much to Kerstin's surprise, ended up being a whole day out! Kerstin was very happy that Annie accepted her invitation to her family's Thanksgiving dinner. They shared a wonderful holiday, and the pair have begun to have dinner together every Friday night.
This fall, SCI organized over 80 volunteers to clear leaves from the yards of 18 local seniors, and we are now getting ready to coordinate volunteer snow shovelers, to ensure that our seniors are safe, even in extreme weather. With volunteer opportunities like these, we are connecting people to their neighbors who may need a little help. And in some cases, we can help create a connection that will last a lifetime! We are asking you to support SCI with a gift today, help us reach our goal of raising $25,000 by the end of the year to support our work, providing volunteer opportunities and bringing people together.