"Big things often have small beginnings" This quote from one presentation at this year's Youth Grant Pitch Contest could not be more true for us at SCI. Nineteen years ago, SCI was founded by our current President, David Crowley. Returning to his hometown of Woburn, he created an organization focused on bringing people together. For just shy of two decades, we have taken action, big and small, to respond to what our community needs, in many communities, our hometown, and beyond. We can continue to take action for our communities with your support today.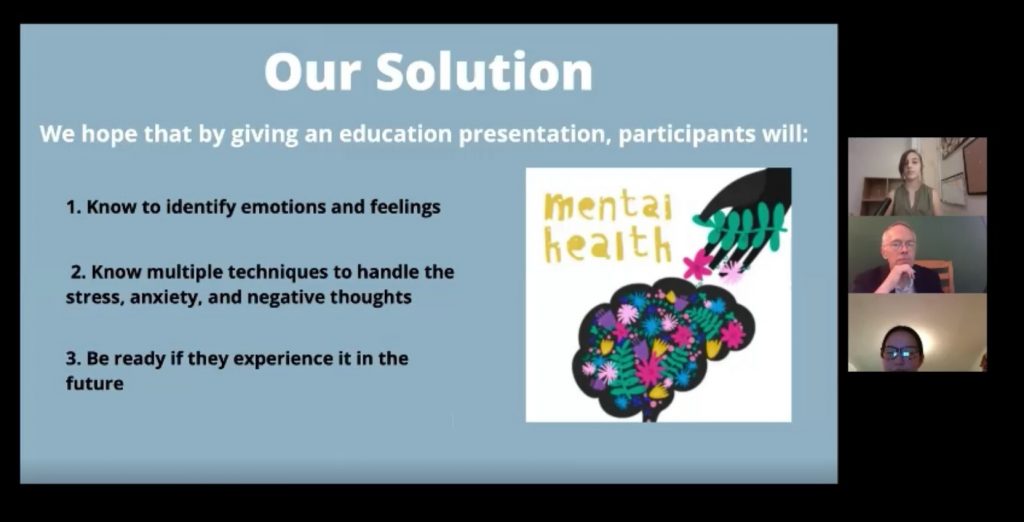 Stemming from our many years of experience working with youth groups and mini-grant programs, this year we launched a multi-community Youth Grant Pitch Contest. Each team of youth was paired with a volunteer Coach, who mentored participants as they developed their proposals over 4 weeks. A virtual Pitch Contest was held where team presentations were scored by a panel of judges who awarded a total of $4,000 in grant funds to develop community projects addressing the mental health needs of youth.
During their presentation, Tanners Torch Club co-vice president, Amy, shared her own experience with mental health, dealing with anxiety, depression, and suicidal thoughts. Personal experience, along with additional data showed the evidence of the need for their proposed program, which would help teens understand and identify their emotions and feelings. "Communicating my feelings that I had held in for so many years saved my life, so it's important that teens know how to do that". Your gift will help SCI expand programs like this, so youth are able to provide the support to their peers that they need. The Tanners Torch Club developed the idea for a workshop that would begin with experts helping teens to understand feelings like anxiety and how to identify them. They then focused on sharing resources available and brought ideas and techniques to manage stress and learn coping skills, like yoga, breathing exercises, and mindfulness. And even the simple act of coloring or journaling.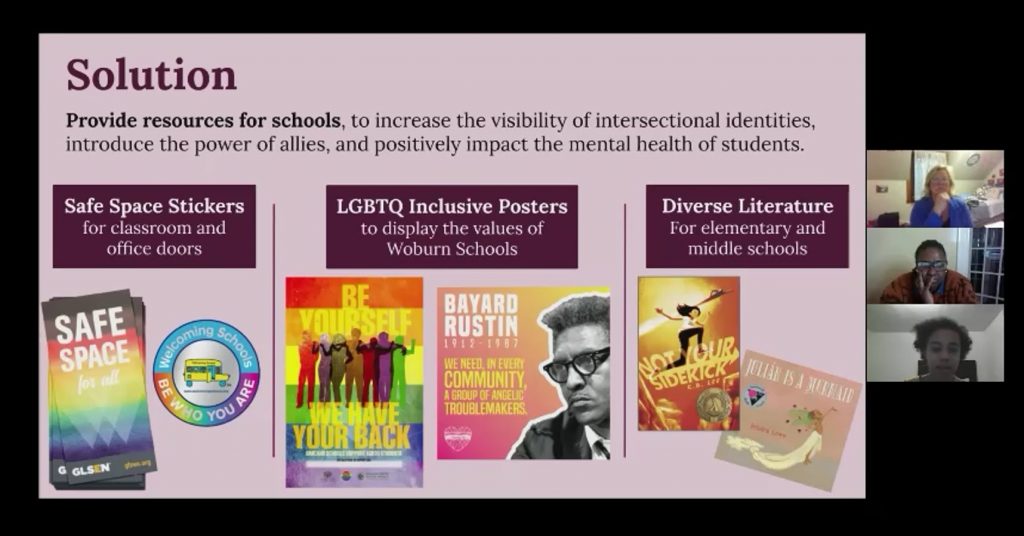 As they developed their projects, the teams were able to learn about issues related to mental health in the community, including their own. When asked how participation in the contest impacted their mental health, a Youth participant shared in a survey, "It helped to know that there are others struggling with mental health like me and that we can do something about it". Another shared, "It gave me more confidence in speaking of my story."
Spectrum club pitched their project to promote acceptance and a safe school environment for LGBTQ+ youth in Woburn. Their project brought LGBTQ+ Inclusive posters and diverse literature to all of Woburn's schools, partnering with librarians and reaching out to the community for donations. Safe space stickers for school classrooms and offices will provide visibility of accepting adults around their school environment.
Through the Pitch Contest, the youth involved were able to develop tangible skills in leadership, including presentation and project management skills. Volunteer Judge Beth said, "The kids are so talented…their presentation materials were much better than what I have seen in the corporate sector! Their energy and poise were fantastic.". Andrew, one of the Volunteer Coaches shared, "I really enjoyed seeing the confidence of the group members build from week to week. They had a great idea to begin with, but used the discussions to challenge their assumptions and develop the idea into a clear plan."
As Evan from Tanners Torch Club so wonderfully put it, "Big things often have small beginnings". We have plans to grow next year's contest, by expanding to new communities and providing additional support to the youth groups, but we need your support. With your donation today, SCI can continue to grow programs like the Youth Pitch Contest and fund more youth-generated projects.
This project is funded through CHNA 15 DoN funds from Lahey Hospital and Medical Center and Winchester Hospital. You can watch the full Pitch from Tanner Torch Club on our Youtube Channel.