The SCI Youth Grant Pitch Contest is a program initiative that was piloted in 2021 and was designed to engage community focused youth-led groups in a process of developing projects that respond to community needs. After an incredibly successful pilot program, it is expanding in 2023 by more than doubling the grant funding thanks to support from Kick it for a Cause and Winning Home Inc.. The program will culminate in a live Pitch Contest event where $10,000 of grant funds will be awarded to a minimum of 7 groups, as selected by a panel of judges. Winning teams will have until November 2023 to complete their project.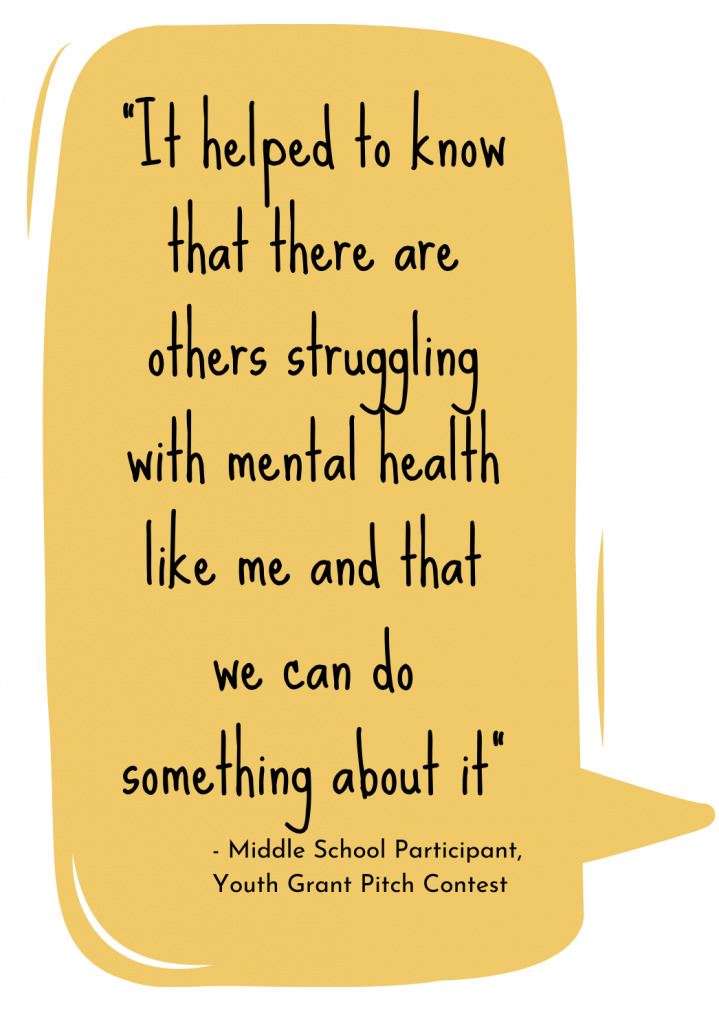 SCI is seeking at least 10 youth teams, who as a result of participating will a) increase their awareness of mental health or other community issues; and b) develop presentation and project planning skills. Data shows that students educating their peers about mental health and other challenges can be quite effective which is why we have chosen this model.
We are also seeking to recruit a diverse group of coaches from the business or nonprofit sector as well as college students who will mentor the youth in the development of their project idea, proposal, and subsequent pitch for the final event. Six virtual coaching sessions will happen in February and March at a time that is convenient for and mutually agreed upon by the teams and their coaches. Coaches can be anyone that brings skills in one of the following areas: marketing, communication, presentation building, community development, project management, mental health, youth leadership or public speaking.
The overall goal of the program is to develop the leadership skills of a diverse group of youth as they develop, pitch, and implement a project to address a wide variety of community needs with an emphasis on funding for youth mental health projects in our communities. The target population is middle school and high school youth teams from throughout the Greater Boston area, with special interest in youth from Boston, Cambridge, Chelsea, Everett, Lawrence, Lowell, Lynn, Malden and Woburn based on SCI's current service area.
Interested in learning more? Please fill out your contact information here as soon as possible and we'll be in touch!
We are aiming to complete youth team and coach matching by the end of January 2023.