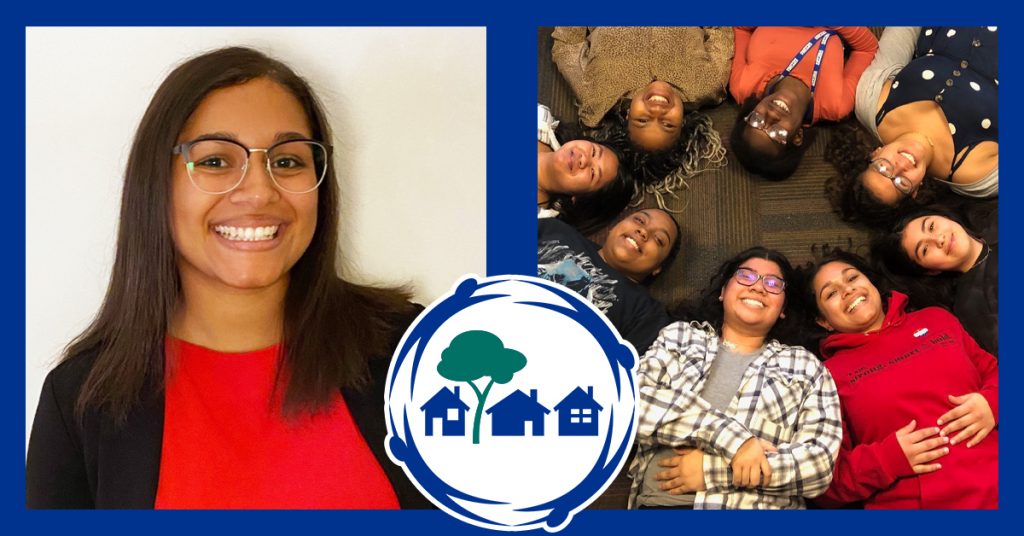 Connecting with teens to support their healthy development is always important. Liandra quickly realized regular meetings and check-ins with the six peer leaders she mentored last year would be all the more important when the pandemic hit.
Liandra Reyes, shown on the left, did her first year of SCI AmeriCorps service as a Youth Leadership Coordinator with Girls Inc. of Lynn.When meeting in person with the peer leaders was no longer possible, Liandra, like so many of us, needed to figure out how to achieve the program's goals via Zoom.
The peer leaders trained by Liandra are in the Part of the Solution program, which provides peer education on wellness and substance use prevention. Instead of making in person presentations to middle school students on these topics, when the pandemic hit the group pivoted to making educational videos on the subject. Liandra notes the participants had to learn to work independently as well as together to successfully complete their tasks.
At first, she didn't know if the girls would be up for meeting as often via Zoom as they would when circling up at Girls Inc. pre-pandemic. But she soon realized the online Girls Inc. meetings provided an important space for the teens to connect peers, different then their online classes and sometimes hectic households. (I'm guessing some readers can relate to the challenges of multiple kids trying to do remote learning while parents worked, or worried about when they could work).
Liandra and her fellow SCI AmeriCorps Youth Leadership Coordinators supported 239 teens through continued programming when the world went virtual. Your support of SCI helps make this possible. At a time when we heard news reports of disturbing numbers of urban youth not showing up for online classes, SCI members helped motivate teens to keep connected to their peers and valuable resources programs.
In addition to carrying out the programs that members were already focused on, they needed to pivot to meet new needs that we have confronted after 2020. For instance, the Monday after George Floyd was murdered, Liandra dispensed with the usual agenda to talk about the news and related racial justice issues.
Individual donations gave SCI flexibility to invest in new resources like a Zoom account and training on how to lead effective virtual programs and meetings. We are optimistic that as 2021 evolves, things will improve. But we know we will have big challenges ahead, and we hope that you will consider a year-end, tax deductible donation to support SCI's crucial community building work.
If you had a chance to read my last message, you might recall Liandra is back with SCI, doing a second year of AmeriCorps service. I asked Liandra what motivated her to return for another year.
"Seeing the tremendous needs created in our communities by the pandemic, I knew I just had to," Liandra commented.
Committing to a year of service is certainly a great way to make a difference. Another option is to support SCI AmeriCorps members like Liandra with a donation today, so that we have the resources we need to continue making a difference in 2021.
Thank you for your interest in SCI's mission. Best wishes for a healthy new year!
David
Click here to Donate online, or if you would to prefer to donate by check,
please make checks payable to Social Capital Inc. and mail to:
Social Capital Inc.
165M New Boston St., Suite 233
Woburn, MA 01801