Serving at the Front Lines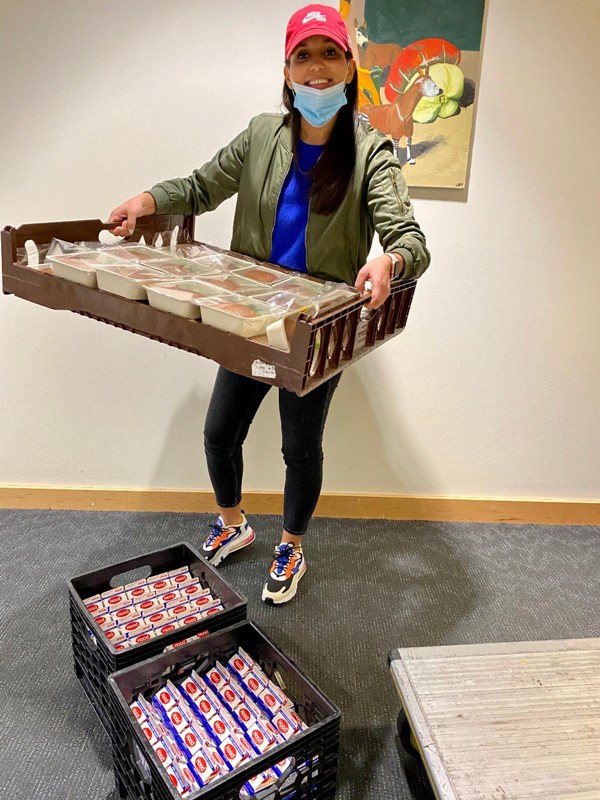 Our AmeriCorps member, Paloma Suarez, has been serving at the South End Community Health Center (SECHC). Nearly 70 percent of SECHC patients live below federal poverty and over 1,500 patients are homeless.
Paloma describes the needs she saw at SECH, "When this pandemic first started affecting our community, I was frightened with how it would affect not only our patients but our community as a whole. I was distraught by the thought of schools closing and parents losing their jobs. For low-income families, breakfast and lunch may be the only complete meals some children receive in a given day."
After reading about a YMCA of Greater Boston food security initiative, Paloma reached out immediately to a senior Y staff member whom she had met at an SCI AmeriCorps training day. The partnership developed quickly, and within a month, Paloma has been able to distribute 1,746 meals to SECHC pediatric patients, including employee's children.
"I don't believe it was just a coincidence that I was placed to serve at SECHC. I truly believe that there is a purpose that is greater and that there is a plan that is bigger. People need hope," Paloma reflected.
Another one of our SCI AmeriCorps members, Reese Ricciardi, has been serving at the East Boston Neighborhood Health Center. She has continued to support her Let's Get Moving Youth Group through virtual activities, while also taking on some new COVID-19 related responsibilities at the health center.
Reese's service now includes being part of a team screening people coming into the health center for treatment. She asks Coronavirus screening questions to direct patients to the appropriate area of the health center to see what protective gear they might need.
"I also have been serving at the pharmacy to help ensure that the least amount of patients are in the building at one time to create less exposure," Reese notes.
Reese is clearly very busy these days! She also helps package and distribute food from the Red Cross when deliveries arrive to the health center.
Rounding out the group of AmeriCorps members serving with community health centers, Whitney Dowds has been playing an instrumental role connecting the Dorchester community with timely information and resources related to COVID-19. Now serving virtually with Codman Square Health Center, Whitney reaches thousands of residents every day with the MyDorchester social media posts and the weekly Dorchester eblast.