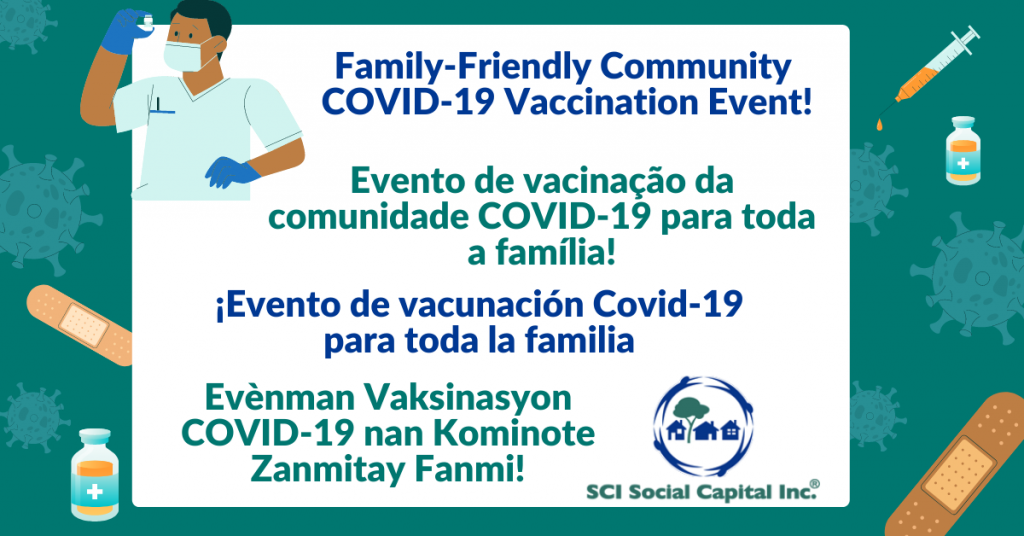 Through the SCI Vaccine Equity & Access Program (VEAP), we have been adapting our strategies throughout the year to find the best ways to increase access to the COVID vaccines and work toward more equitable vaccination numbers.
With most vaccination opportunities in the Woburn area requiring filling out those extensive online registration forms in English, we were hearing the need for a community vaccination clinic that is more accessible to the immigrant population. With that in mind, we are joining with a local church and medical group to offer a family-friendly community COVID vaccine clinic on May 7.
The May 7 community clinic is for ages 5 and up. This also supports the goals of the Teen VEAP program we launched earlier this year, and we have teen interns working with us to encourage participation in the clinic.
We are still recruiting for translators (paid) and volunteers to help with the clinic. If you are interested in serving as a general volunteer for the clinic, please fill out this Google form. To help with translation (Portuguese, Haitian Creole or Spanish), email Charlie Kwitchoff at ckwitchoff@socialcapitalinc.org to learn more.
In other VEAP updates, the Teen VEAP youth leaders are working on a video for teens about the importance of getting vaccinated. They are looking for teens interested in being interviewed with a grandparent about their relationship and how getting vaccinated protects those we care about. Teens interested can fill out this form.
Meanwhile, SCI VEAP also continues to support the ongoing community vaccine clinics in Everett and Malden; two communities deemed by the Mass. Department of Public Health to be among the highest priorities for vaccine equity work.