Excite. Educate. Empower.
Getting to know Kids in Tech, an SCI AmeriCorps host site
Opportunity to serve with Kids in Tech in Boston, MA and Lowell, MA – 2022-2023 Community Engagement Coordinator Position Available with Tech Certification Training Included!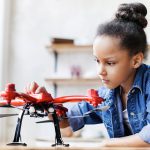 Kids in Tech was founded to serve youth from low-income families, providing them with free after-school programs in computers and technology in the Lowell area. They have gradually expanded to serve more schools with on-site Tech Clubs, going virtual during the pandemic. The SCI AmeriCorps Community Engagement Coordinators would further the mission by serving as tutors and role models for the children they serve.
In addition, the SCI AmeriCorps members would have the opportunity to receive training and certification in tech subjects. Kids in Tech would, we believe, serve as a powerful catalyst for opportunity youth in the Boston and Lowell areas to access social capital in the form of mentorship, engagement, technology training, and experience.
Tech Club student participants are guided through engaging hands-on activities in coding, robotics, building websites, and more, creating their own websites, animations and other projects.
Community and technology leaders visit during after-school Career Days to talk about real-life applications of these skills and the importance of STEM education in pursuing those professional paths. Occasional field trips to technology companies in the area show the kids the connections between their Tech Club activities and the real-world applications. SCI AmeriCorps Community Engagement Coordinators would become integral to all of these activities, including planning visits and field trips with local tech professionals.
In addition to cultivating community connections, SCI AmeriCorps members will also have access to the following benefits:
Receive a Taxable Stipend up to $23,000/year, paid bi-weekly
Earn a Federal Education Award worth up to $6,495 upon successful completion of service that can be used towards past, future or a family member's* university education (*if you are aged 55 or older at time of service; certain restrictions on family transfers apply)
40-hour SCI Member Professional Development Certificate Program: professional development training in Volunteer Management, Building Social Capital, Community Outreach, Youth Development, Project Management, and DEI (Diversity, Equity, and Inclusion)
Eligible for Free Healthcare at a no-cost premium
Can receive Student Loan Forbearance during active service
Apply now for this opportunity to support youth in our communities, grow as an individual, engage volunteers, and create community connections!