2021 SCI Youth Grant Pitch Contest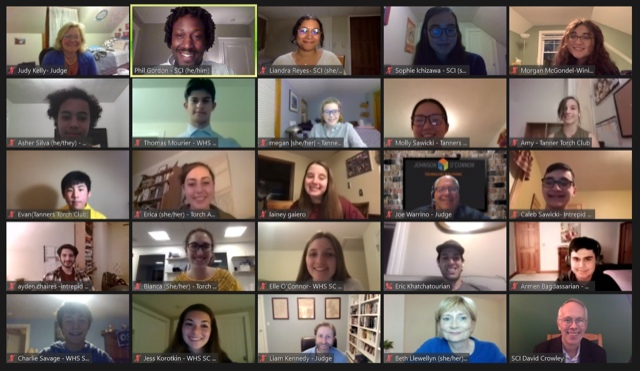 On Thursday, April 29th, the (inaugural) 2021 SCI Youth Grant Pitch Contest wrapped up with a virtual Pitch Contest Event, where presentations from six local youth groups from Winchester and Woburn were evaluated by a panel of judges who then awarded $4,000 of grant funds to selected groups.
The Youth Grant Pitch Contest engaged middle and high school students in a process of developing community projects that respond to the mental health needs of their peers. The participating youth groups were: Intrepid Keystone Club (James L. McKeown Boys & Girls Club, Woburn), Tanner Torch Club (James L. McKeown Boys & Girls Club, Woburn), Winchester High School Connect & Commit Elementary Committee, Winchester High School Investing & Banking Club, Winchester High School Student Council Mental Health Committee, and Woburn Memorial High School Spectrum Club. These groups committed to a month-long learning experience where they were paired with a volunteer Proposal Development Coach who mentored youth participants throughout the 4-week project & pitch development phase.
Through the Pitch Contest, SCI gave youth the opportunity to choose how to strengthen their community while practicing valuable professional skills such as public speaking, project management, and community organizing. The Pitch Contest Event was a culmination and celebration of the hard work the youth participants did over the previous month, and the Judges Panel was impressed by the quality of their presentations. Volunteer Judge Beth Llewellyn said, "The kids are so talented…their presentation materials were much better than what I have seen in the corporate sector! Their energy and poise were fantastic."
Overall, five groups were awarded funding for their projects. Each group has until November 2021 to implement their project, so stay tuned! SCI would like to highlight the two groups whose projects received full funding at $1,000 each: Tanner Torch Club and the Winchester High School Connect & Commit Elementary Committee. Congratulations! SCI would also like to thank the volunteer Proposal Development Coaches, the volunteer Judges Panel, and the youth group Adult Advisors for their participation which was crucial to having a successful program. We look forward to doing it again next year and including more Boston area communities!
The 2021 SCI Youth Grant Pitch Contest was funded through CHNA 15 DoN funds from Lahey Hospital and Medical Center and Winchester Hospital.