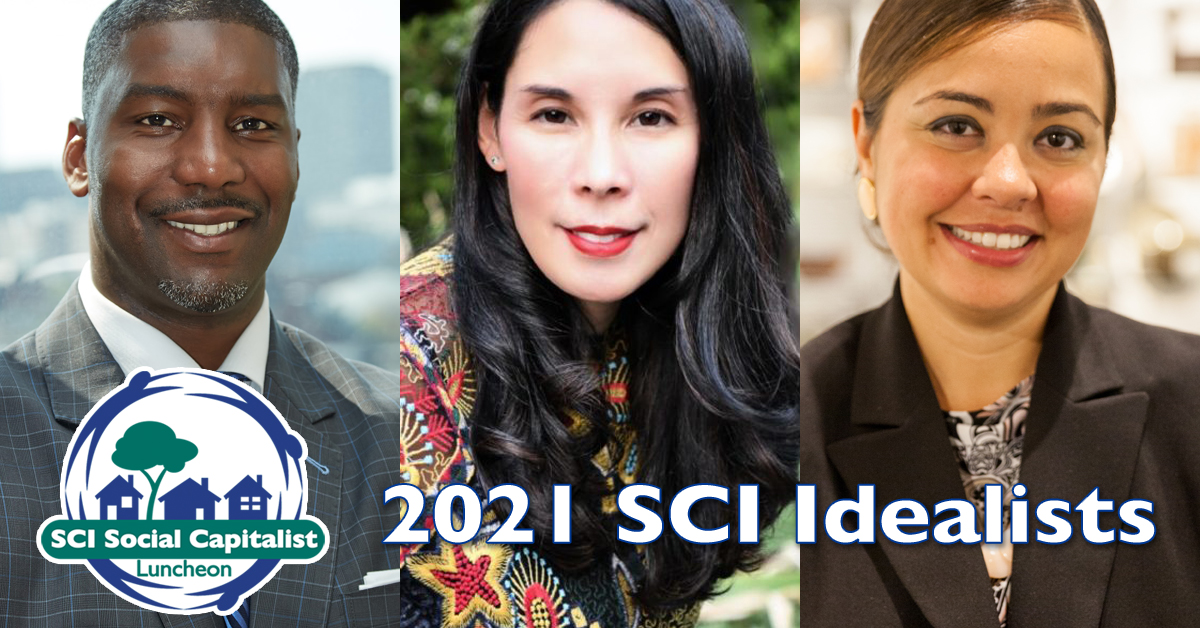 The SCI Social Capitalist Luncheon is an event that has grown each year and raises awareness of SCI's success by recognizing individuals who exemplify its mission.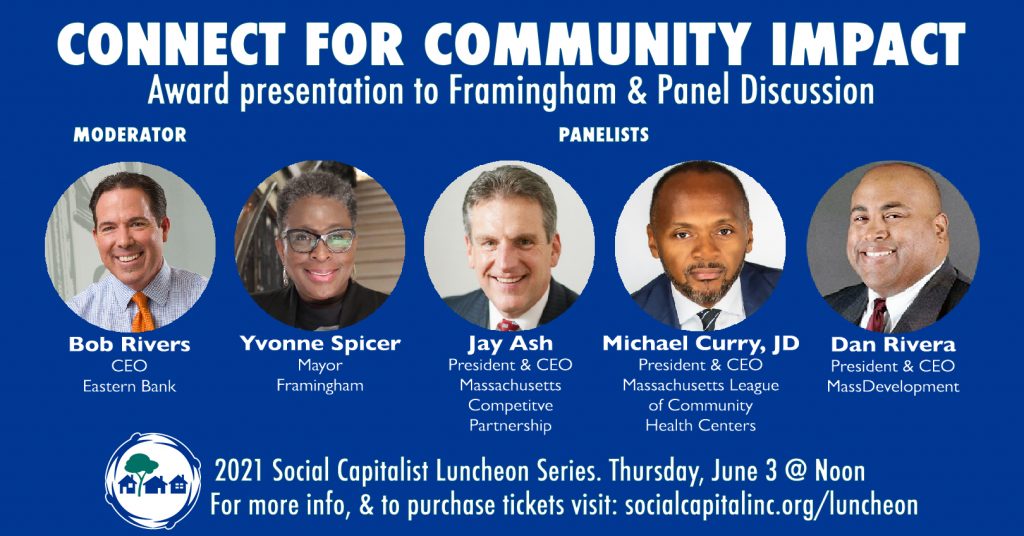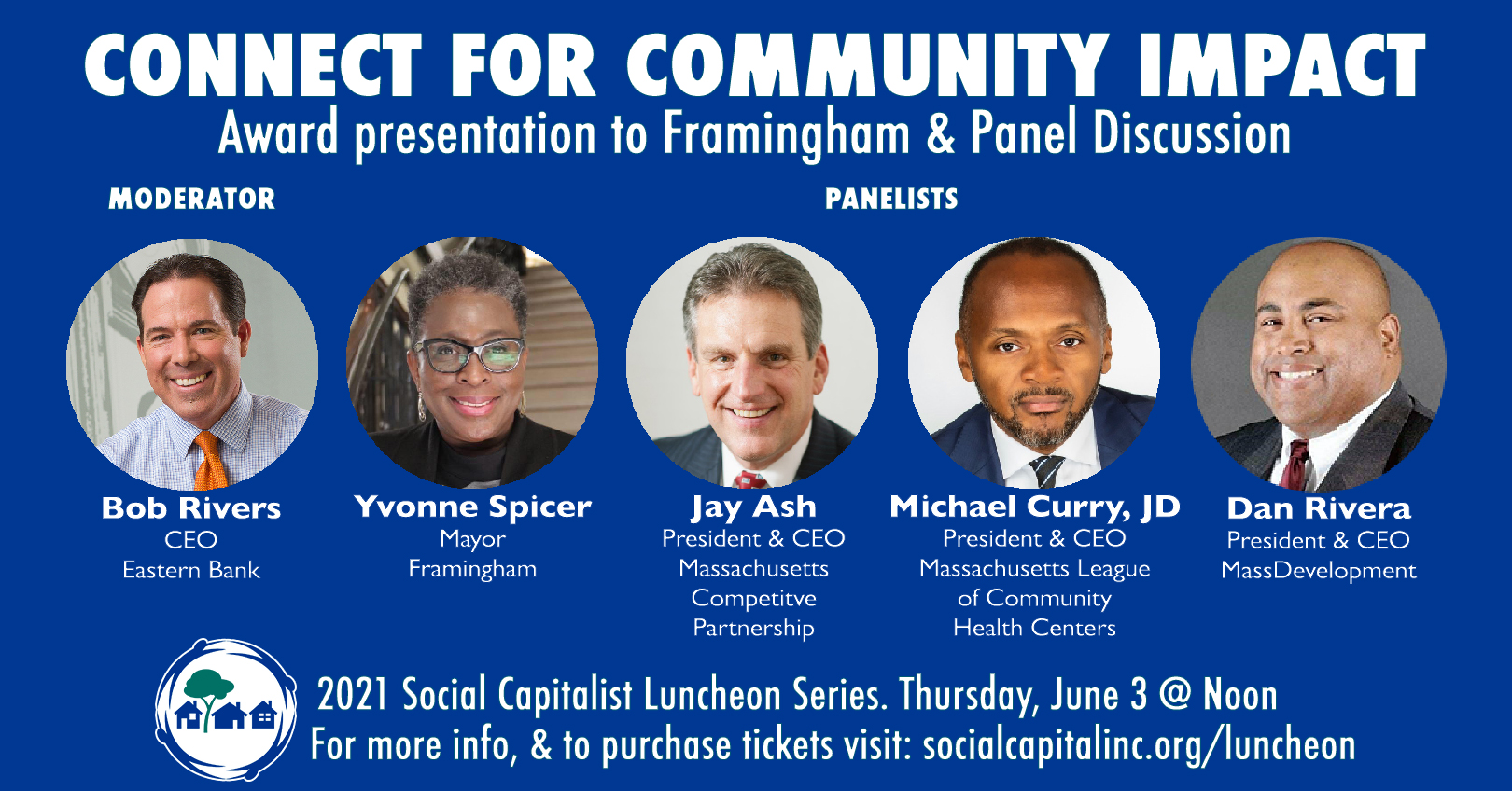 At the second event in the virtual Social Capitalist Luncheon series, Eastern Bank CEO Bob Rivers presented the 2021 Connect for Community Impact Award to Mayor Yvonne Spicer, recognizing the community of Framingham.
The award presentation was followed by a lively panel discussion about business and community collaboration to create healthy and equitable communities with the following panelists: Yvonne Spicer, Mayor, Framingham Jay Ash, President & CEO, Massachusetts Competitive Partnership Michael Curry, JD, President & CEO, Massachusetts League of Community Health Centers. Dan Rivera, President & CEO, MassDevelopment Bob Rivers, CEO, Eastern Bank (Moderator)
The Luncheon Series will concludes this Thursday, June 10th, with the presentation of the 2021 SCI Idealist Awards.
The schedule outline for the series is below, with all events starting at noon:
Participation in the live events, including opportunities to interact with award recipients and other speakers, will be managed on a ticketed basis. Portions of each program will be made available after the event on SCI's website and social media. You can find more on sponsorship opportunities below.
Learn more about our 2021 Idealists:
The 2021 Connect for Community Impact Award
Presented by Eastern Bank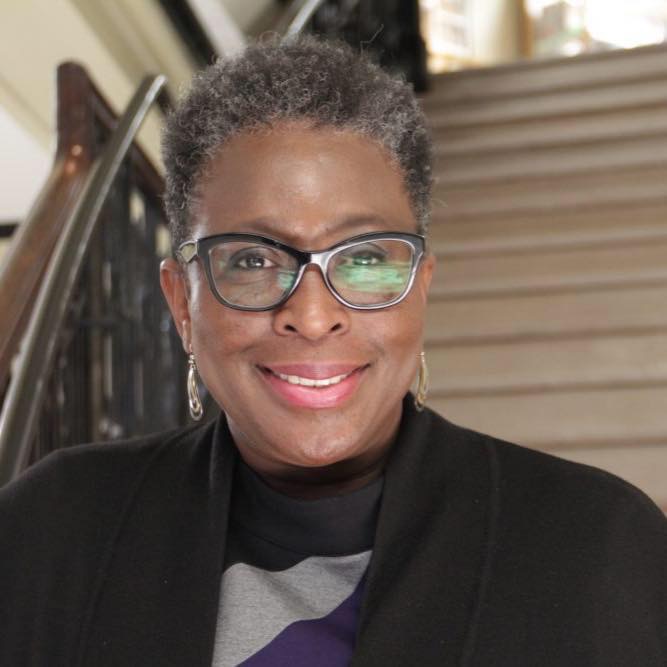 The City of Framingham, under the leadership of Mayor Yvonne Spicer along with many outstanding community partners, has been selected for this year's Connect for Community Impact Award, presented by Eastern Bank. This award has been presented annually since 2016, recognizing cities that effectively collaborate across diverse sectors and constituencies to create a thriving community for all.
"In just three years, Mayor Spicer has literally put Framingham on the map as the first mayor of The Commonwealth's latest city. Through her personal outreach and high visibility, she has established Framingham's growing reputation as a model of sustainable and collaborative economic development."
-Bob Rivers, CEO, Eastern Bank
The Social Capitalist Luncheon is our biggest annual event, providing vital support for SCI as we continue to adapt to meet the evolving community needs.
With funds generated through our Luncheon fundraiser in 2020, SCI has been able to adapt our programming to meet the challenges of the COVID crisis. During the past year, we have coordinated volunteers and food donations resulting in tens of thousands of dollars worth of food for those in need; and supported young people and their families through periods of remote and hybrid learning.