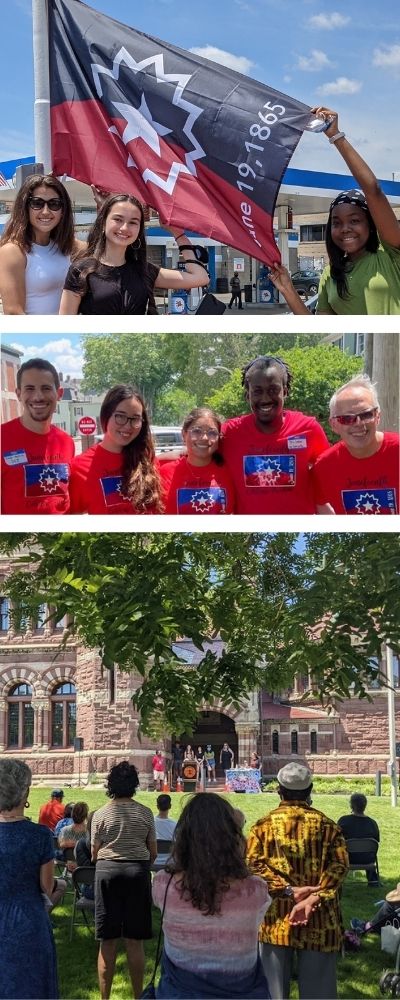 Volunteers Needed! Are you able to volunteer the day of the event to help make this event a success?? Sign up for a shift or two now!
Social Capital Inc. (SCI), the Woburn Public Library, and the City of Woburn are hosting the 2nd annual celebration of Juneteenth Independence Day with support from the Woburn Democratic City Committee, Woburn Welcomes, the NAACP Mystic Valley Area Branch, Beth Israel Lahey Health Winchester Hospital, and MA State Representative Rich Haggerty.
The Juneteenth Woburn 2022 celebration will take place at the Woburn Public Library on Saturday, June 18th, from 1:00pm – 4:00pm.
Interested in supporting this event? Donations are welcome!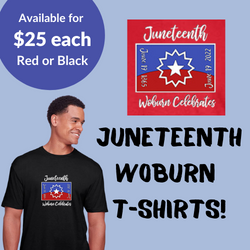 Juneteenth Woburn T-shirts are Now Available for Purchase!
Get ready for Juneteenth Woburn 2022 by ordering your shirt today!
Available in Red and Black colors, this shirt helps to financially support this community event now and in the future. Shirts will be available for pick-up after ordering online on Fridays at the Woburn Public Library circulation desk (45 Pleasant St, Woburn, MA 01801) beginning on May 27th until June 17th.
Limited number of shirts available. Order yours now at https://bit.ly/woburnjuneteenthtee! Special thanks and recognition to Woburn resident, Tracy Breedan, for the shirt design.
EVENT SCHEDULE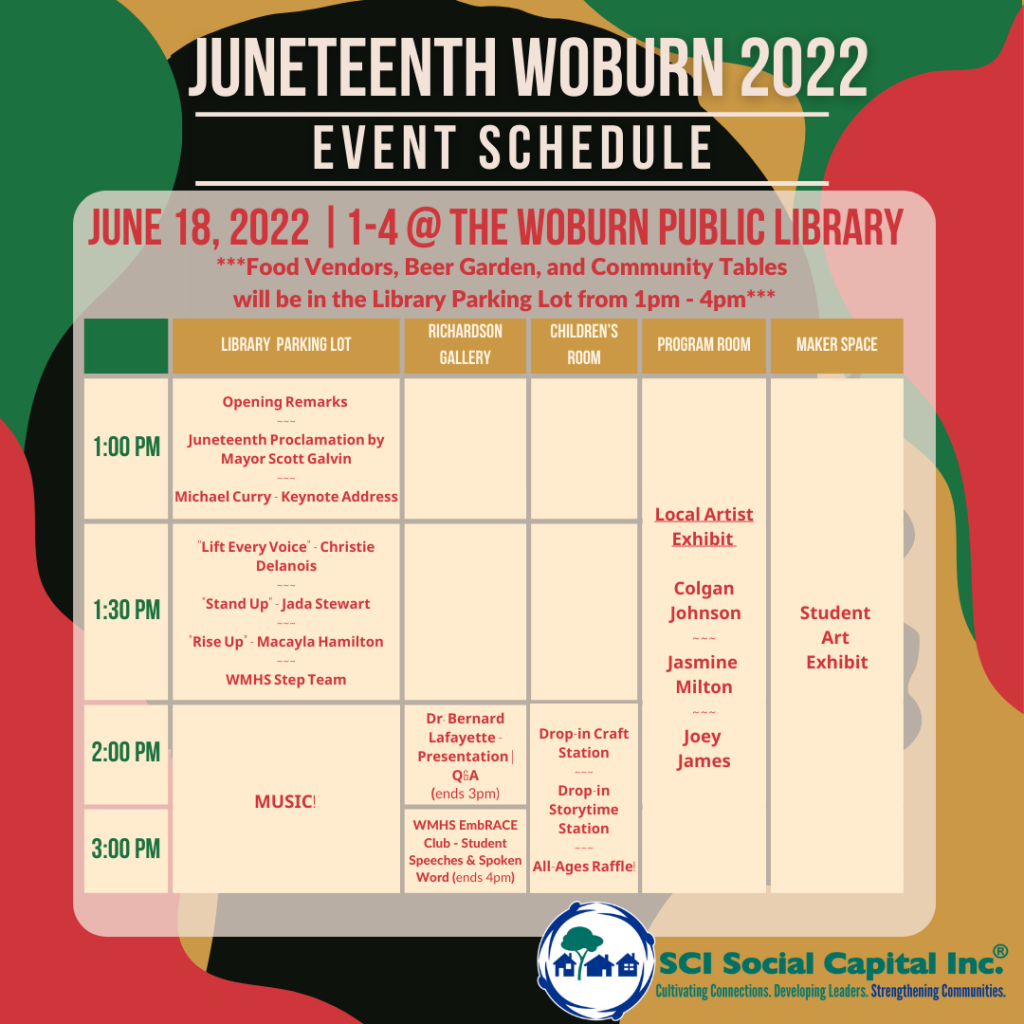 Juneteenth Woburn will be held at the Woburn Public Library, in the back parking lot with events and exhibits inside the Library as well!
Food Vendors, Beer Garden, and Community Tables will be in the Library Parking Lot from 1pm – 4pm. In the Program Room, there will be a Local Artist Exhibit featuring Colgan Johnson, Jasmine Milton, and Joseph Joey James from 1pm-4pm. In the Maker Space, there will be a Student Art Exhibit from 1pm-4pm
1:00PM
In the Library Parking Lot:
– Opening Remarks
– Juneteenth Proclamation by Mayor Scott Galvin
– Michael Curry – Keynote Address
1:30PM
In the Library Parking Lot:
Musical Performances by Students from WMHS:
– "Lift Every Voice" – Christie Delanois
– "Stand Up" – Jada Stewart
– "Rise Up" – Macayla Hamilton
– WMHS Step Team
2:00 – 3:00PM
In the Richardson Gallery: Dr. Bernard Lafayette – Presentation | Q&A
2:00-4:00PM
In the Children's Room:
– Drop-in Craft Station
– Drop-in Storytime Station
– All-Ages Raffle!
3:00-4:00PM
In the Richardson Gallery: WMHS EmbRACE Club – Student Speeches & Spoken Word
KEYNOTE SPEAKER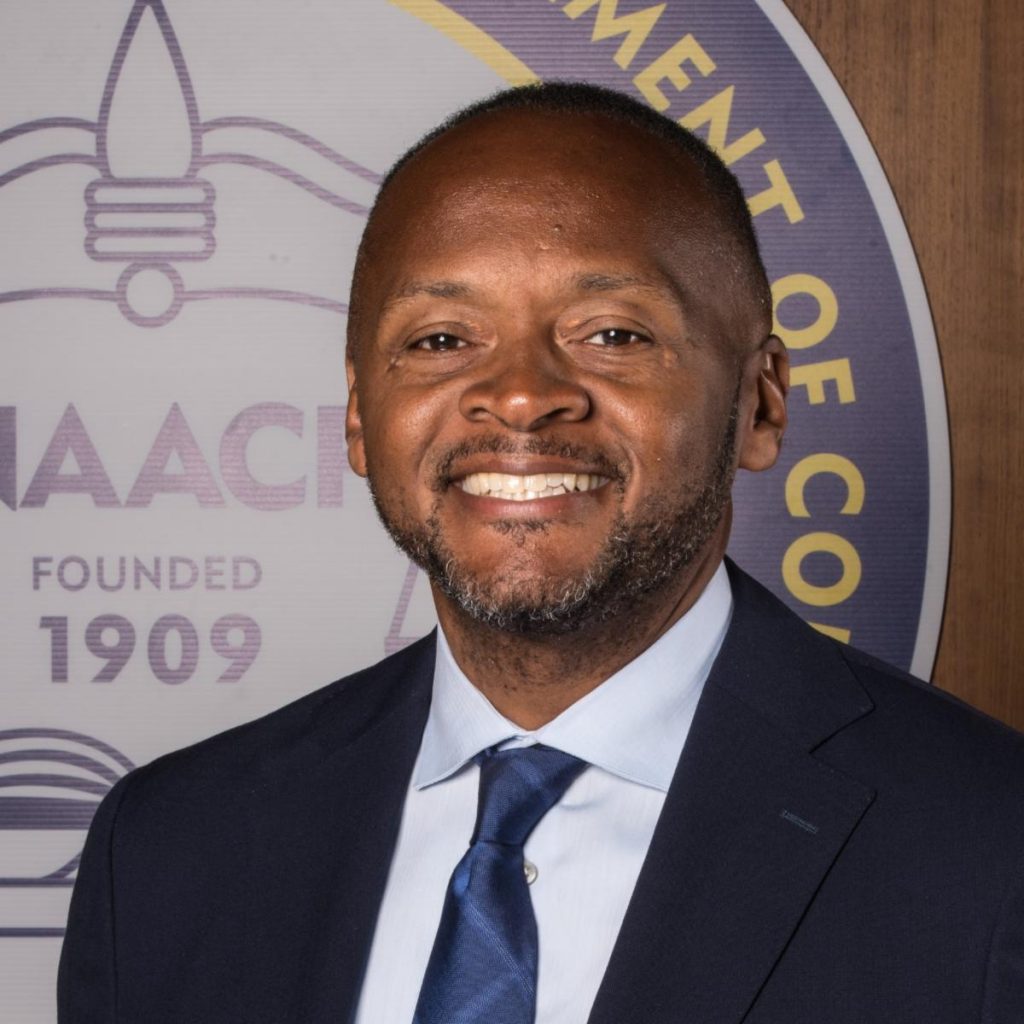 We're excited to announce that our featured Keynote Speaker is Michael Curry, President & CEO of the Massachusetts League of Community Health Centers! Mr. Curry was also the past President of the Boston Branch of the NAACP, and currently serves as a Board Member on the National NAACP Board of Directors. Learn more about Michael by checking out his bio here!
The event will include a keynote speaker, food, music, vendors, a beer garden, artist exhibit, children's activities, and more!