2021 Social Capitalist Luncheon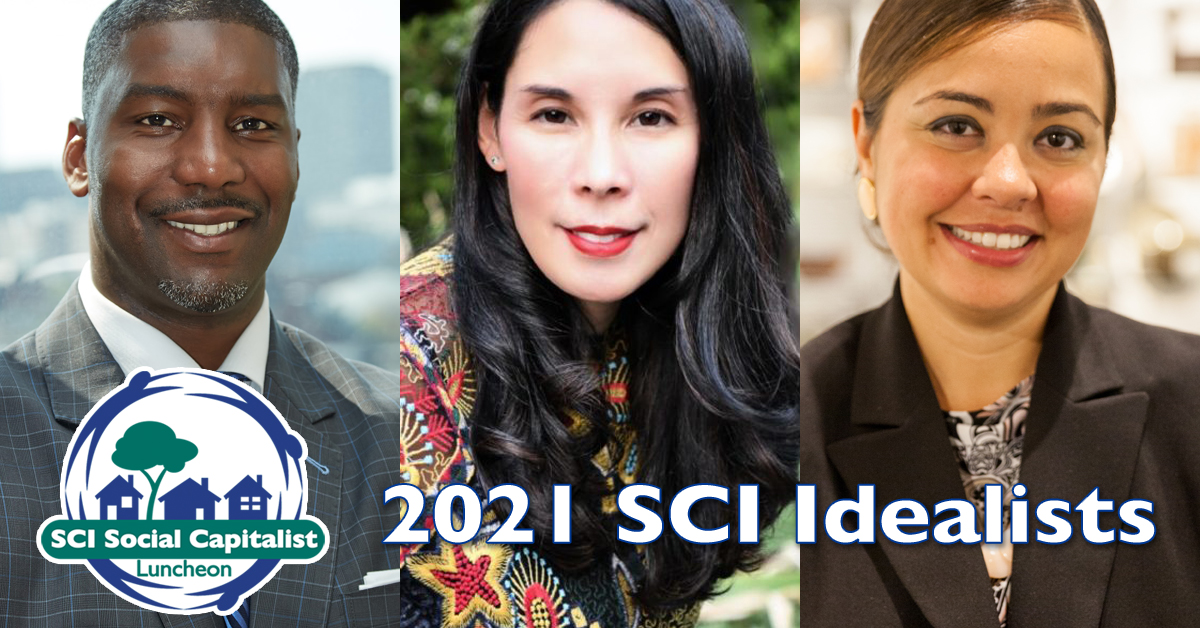 It is not easy to convey the level of energy and emotion of an in-person event in virtual format, but our 2021 SCI Idealist Award presentation last week delivered a powerful emotional experience. Clearly that was driven by the compelling words from our award recipients and the moving introductions.
The Idealist presentation was a great conclusion to our highly successful virtual Social Capitalist Luncheon Series. Throughout the series, we heard from a great lineup of speakers that provided important insights as to how we can leverage our collective social capital in support of healthy, equitable communities.
We also had a chance to share recent SCI highlights, and raise over $80,000 to carry out our mission. Thanks to all of you who supported this event!
The following sections provide links to videos where you can catch highlights from each event in the series.
The 2021 SCI Idealist Awards
We had a wonderful conclusion to the Series with the presentation of the 2021 SCI Idealist Awards! You can view the entire event here, or clips with the following highlights:
The final event also gave us a chance to hear some SCI updates and stories.
Learn more about our 2021 Idealists:
Community Impact Presentation & Collaboration Panel
At the second event in the virtual Social Capitalist Luncheon series, Eastern Bank CEO Bob Rivers presented the 2021 Connect for Community Impact Award to Mayor Yvonne Spicer, recognizing the community of Framingham.
The award presentation was followed by a lively panel discussion about business and community collaboration to create healthy and equitable communities with the following panelists: Yvonne Spicer, Mayor, Framingham; Jay Ash, President & CEO, Massachusetts Competitive Partnership; Michael Curry, JD, President & CEO, Massachusetts League of Community Health Centers; Dan Rivera, President & CEO, MassDevelopment; Bob Rivers, CEO, Eastern Bank (Moderator)
Building Social Capital Panel
The Social Capitalist Luncheon Series got off to a great start with our panel discussion on "Building Social Capital for an Equitable Recovery." The panel moderated by David Shapiro featured Councilor Julia Mejia, Robert Lewis Jr. and Bob Giannino.
David also spoke about SCI's work over the past year, and SCI AmeriCorps member Liandra Reyes talked about her service.
The series in its entirety: