2nd Annual Juneteenth Celebration in Woburn!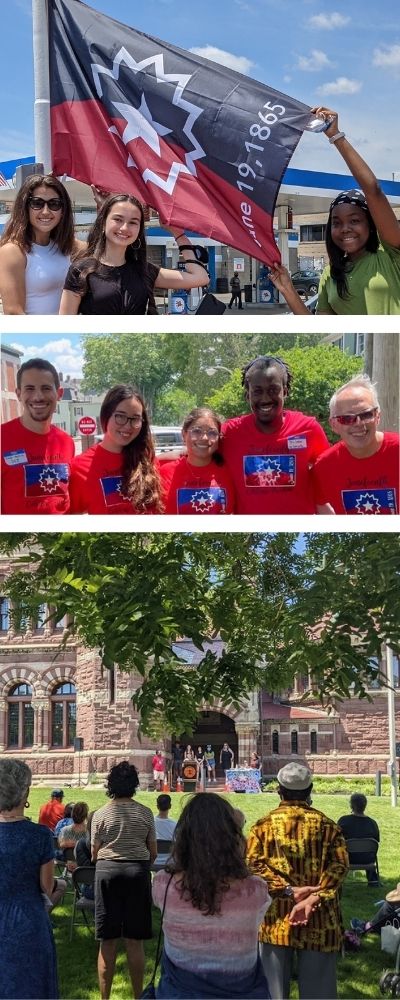 Social Capital Inc. (SCI), the City of Woburn, the Woburn Public Library, Woburn Welcomes, and St. John's Baptist Church are hosting the 2nd annual celebration of Juneteenth with support from Beth Israel Lahey Health Winchester Hospital, the NAACP Mystic Valley Area Branch, the Woburn Democratic City Committee, State Representative Rich Haggerty, State Representative Michelle Ciccolo, the Network For Social Justice, and Kadanse Studios. 
Juneteenth is a holiday celebrating the emancipation of enslaved Black people within the United States – first celebrated on June 19, 1865 in Galveston, Texas and has since been observed annually on June 19th. In July 2020, Governor Charlie Baker signed into law a bill designating Juneteenth as an annual state holiday in Massachusetts. Juneteenth was recognized as a federal holiday on June 17, 2021, when President Joe Biden signed the Juneteenth National Independence Day Act into law.
The Juneteenth Woburn 2022 celebration will take place in the back parking lot at the Woburn Public Library on Saturday, June 18th, 2022, from 1:00pm – 4:00pm. The theme of Juneteenth Woburn is "Celebrating the Resilience of Black Families" with a focus on promoting Black-owned Business-owners and Artists. 
A short speaking program will kick off the event and will feature Michael Curry as the keynote speaker. Mr. Curry is the President & CEO of the Massachusetts League of Community Health Centers, and also currently serves as a Board Member on the National NAACP Board of Directors.  Learn more about Michael by checking out his bio here!
The event will continue after the speaking program with various performances by Woburn Memorial High School Students followed by music, along with food, vendors, and local community organizations. A beer garden will also be available for attendees with beer being provided and sold by Berkshire Brewing Company . 
Inside the Library there will be activities available for children in the Children's Room, along with a Woburn Memorial High School Student Art Exhibit in the Maker Space on the Main Floor, and a Local Artist Exhibit in the Program Room on the Lower Floor. 
The Local Artist Exhibit will feature: 
All community members in the Woburn area are encouraged and welcome to attend Juneteenth Woburn 2022 on Saturday, June 18th! More event details can be found at socialcapitalinc.org/juneteenth/ or on Facebook at facebook.com/SCIWoburn. 
Please consider financially supporting the event by making a donation at socialcapitalinc.org/donate or purchasing a commemorative t-shirt at bit.ly/woburnjuneteenthtee!
Major support for Social Capital Inc. is provided by Cummings Properties.