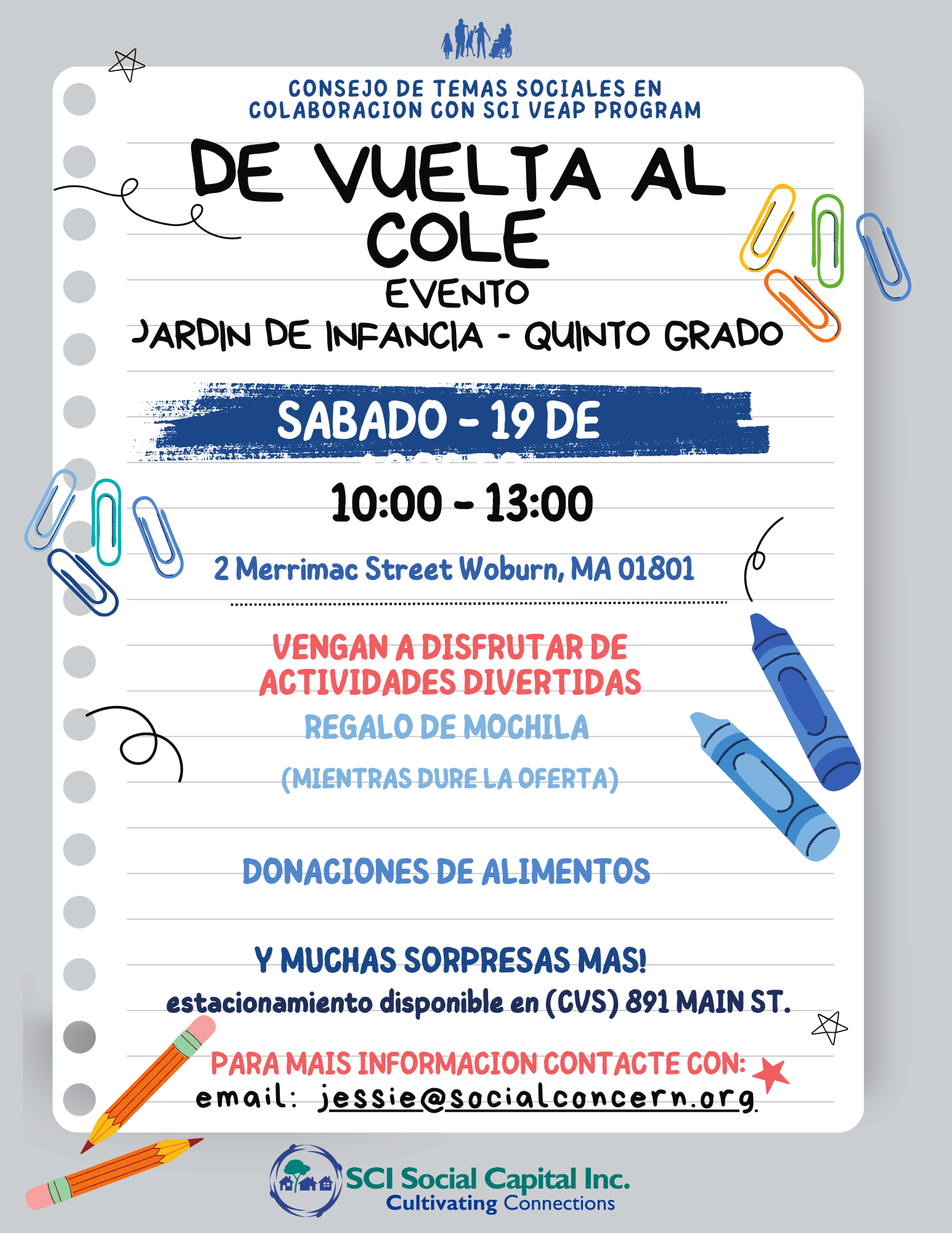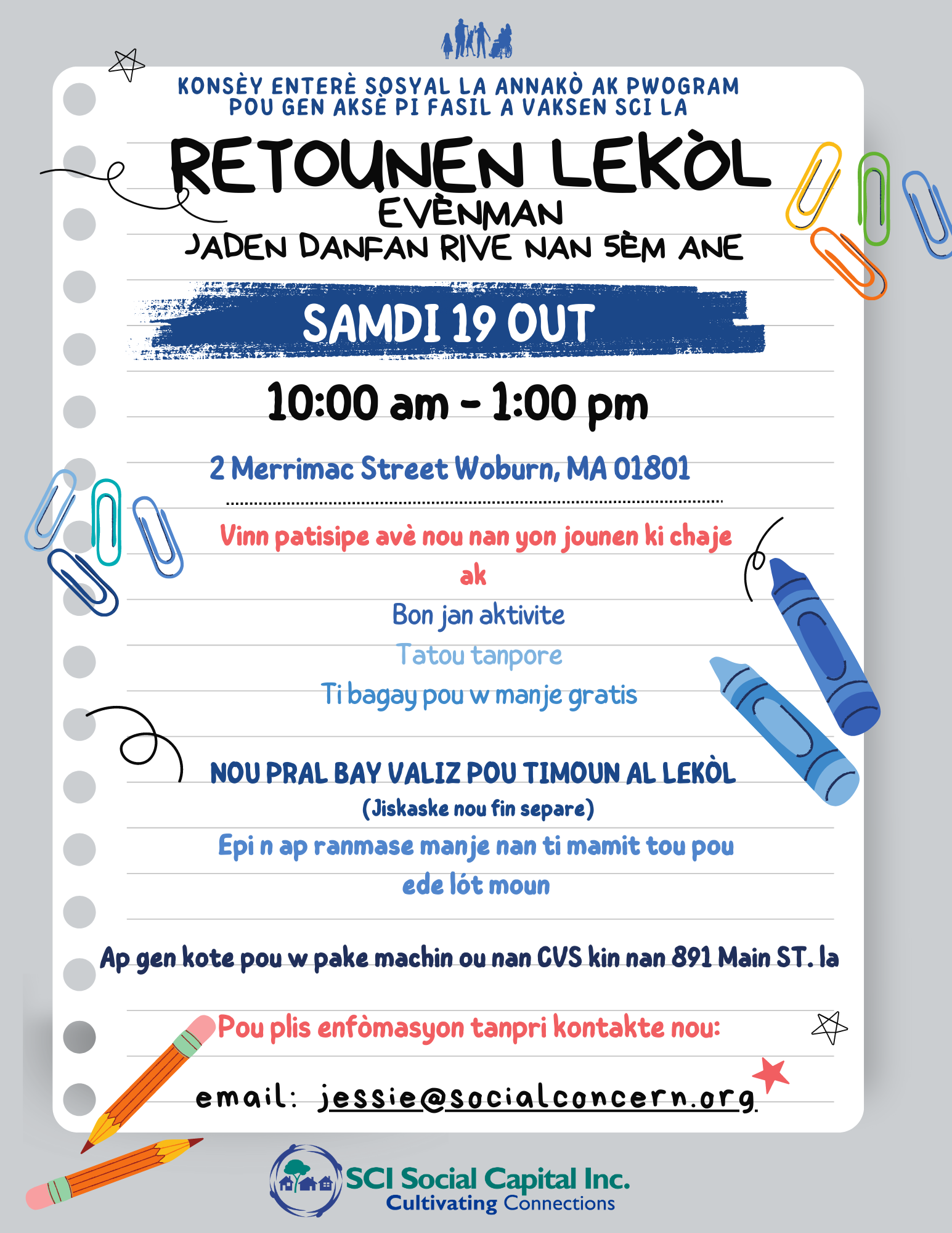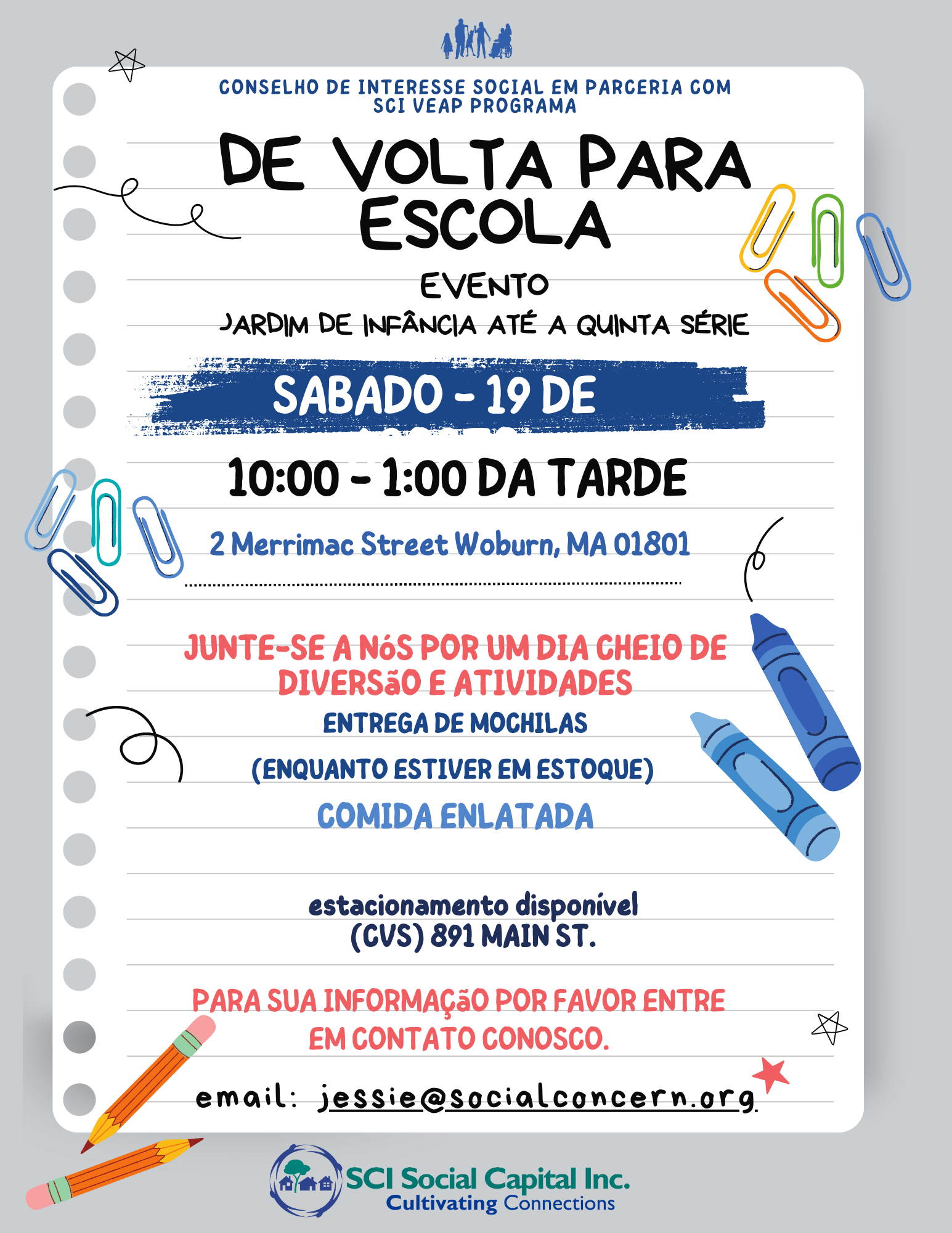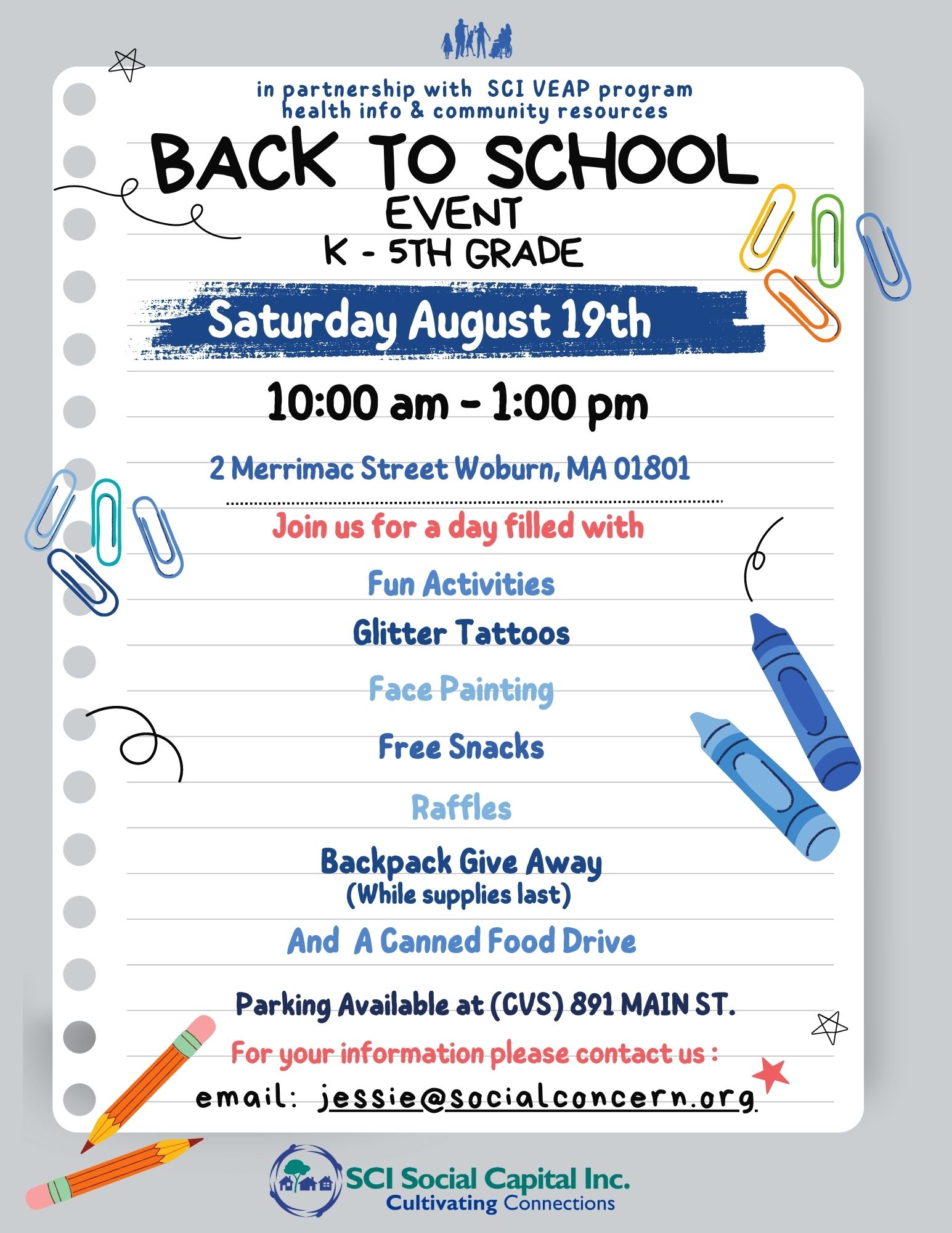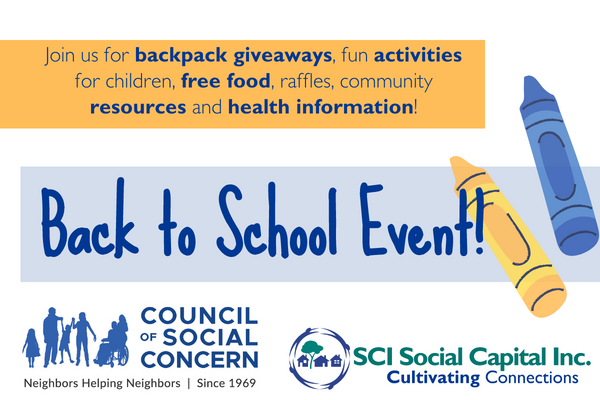 On Saturday, August 19, the Council of Social Concern (CSC) will be hosting a Back to School event in partnership with SCI Social Capital Inc. The event will include a backpack give away, fun activities for children, free snacks, community resources and health information. There will also be a canned food drive. Families coming are asked to bring donated food if they are able.
The Back to School event will be held from 10 a.m. to 1 p.m. at the Council of Social Concern, located at 2 Merrimac St. in Woburn. Parking is available at the nearby CVS on Main St.
This is the first community event resulting from a new collaboration between the CSC and SCI to conduct educational outreach about the safety and efficacy of the flu and COVID vaccines. Both organizations have received Centers for Disease Control grants of $76,500 through Community Catalyst to promote vaccine equity.
This is the third year SCI has been operating a Vaccine Equity and Access Program (VEAP) through this funding initiative. For the 2023 grant cycle, SCI was given the opportunity to invite another community based organization to join as a partner on the program.
"SCI VEAP seeks to reach out to groups that have been disproportionately affected by COVID and other health issues, and to provide information about vaccination through trusted community messengers," noted SCI President David Crowley. "The Council of Social Concern was a natural partner to join the VEAP effort, given the services they provide to a diverse constituency."
Throughout the year, CSC and SCI will collaborate on a range of educational activities and community events. Stop by the Back to School event to learn more!
"When SCI approached us for this partnership, we jumped at the chance," expressed CSC Executive Director Jessie Bencosme. "Council of Social Concern is always open to new ways of addressing the ever changing needs of the community. The VEAP effort provides us with an opportunity to provide those we serve with information on vaccinations such as the COVID and Flu vaccines. We also look forward to be able to provide them with other health-related resources."
About the organizations
Council of Social Concern: Council of Social Concern was founded in 1969 by a group of concerned citizens who wanted to promote a sense of "neighborliness" in the community and address the absence of quality, affordable childcare and housing issues. Our goal is to respond to the basic needs of people of all ages while creating positive family and community relationships and fostering respect for diversity. Today, the Council of Social Concern assists approximately 1,900 individuals per year. For more information please visit https://www.socialconcern.org and https://www.facebook.com/councilofsocialconcern.
SCI Social Capital Inc.: Founded in 2002 in Woburn, SCI's work, rooted in connecting people and coming together to address pressing needs, will lead to stronger communities, where everyone has an equal opportunity to thrive. SCI has grown to serve the Greater Boston area while continuing to have a significant impact in Woburn. For more information about SCI Woburn programs and events, visit https://socialcapitalinc.org/sciwoburn/ and https://www.facebook.com/SCIWoburn.